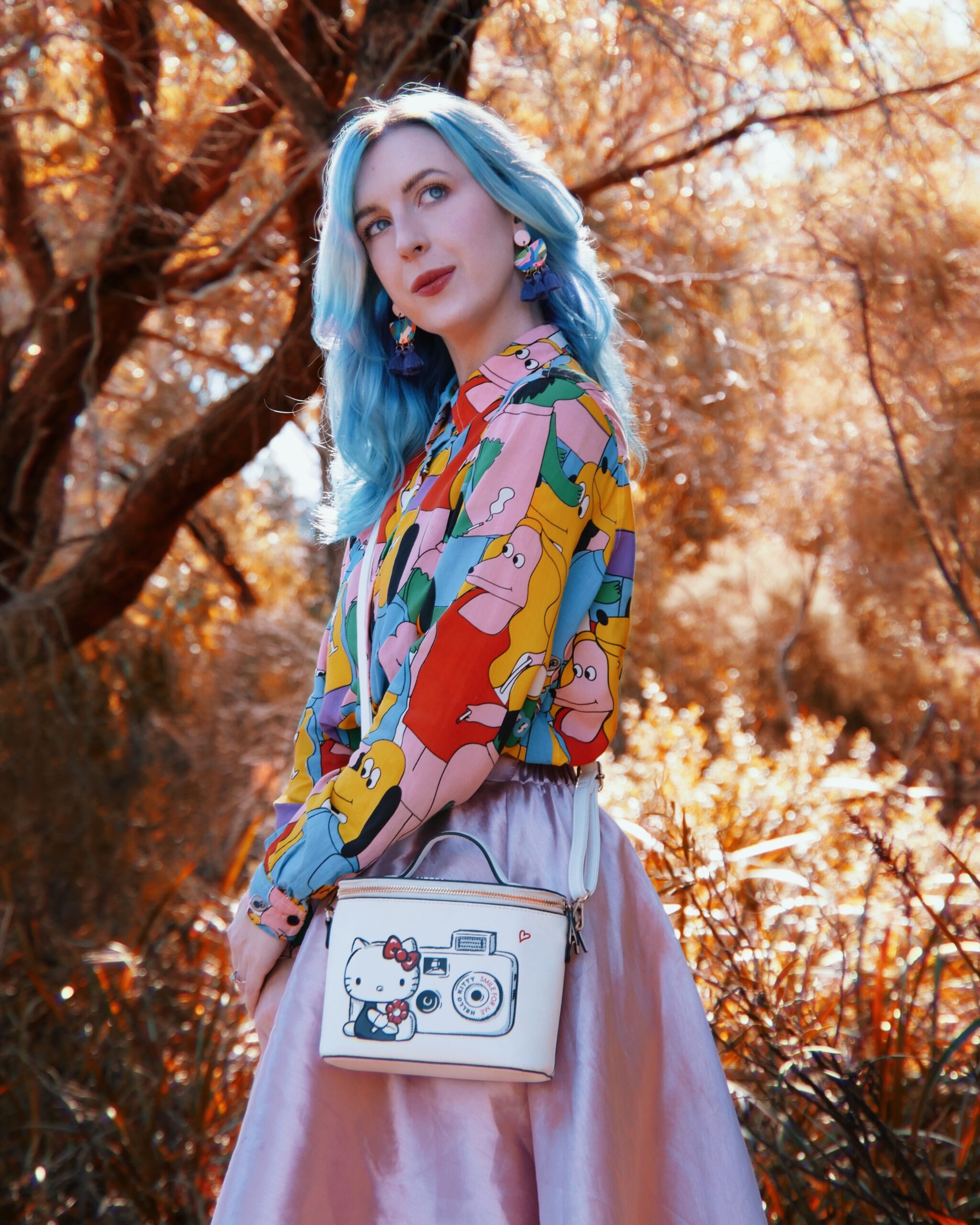 This outfit is a blend of some pieces I've collected over the years… A collection of wearable memories! I love how clothing can evoke a connection to a certain time in your life. This top is one that I bought many years ago from Lazy Oaf, back when Alex and I were living in our first rented house together! I remember wearing it during fun days at university while I was studying my fashion degree, and to many shifts while I was working at one of the most fun jobs I've had.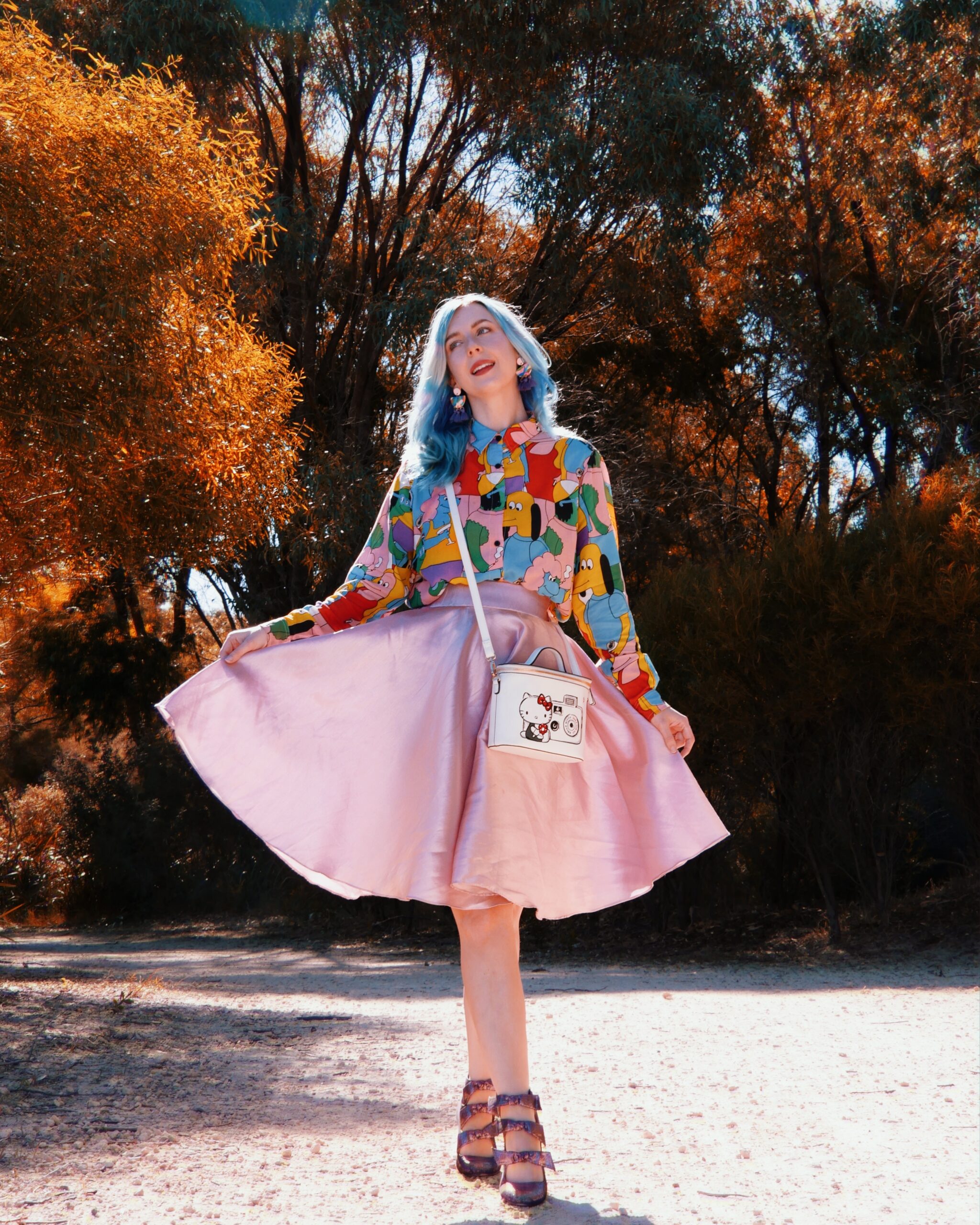 These shoes by the brand Ava & Aiden were something special that I treated myself to when I travelled to Los Angeles to showcase my fashion design work on the runway at LA Fashion Week. I didn't buy much when I went to LA – only a few special pieces that I still treasure almost two years on. Whenever I wear these I feel like I'm stepping back to that time in my life, and remember how exciting (yet exhausting!) that moment in my life was. Such great memories of making new friends, working on an amazing runway show, and many photoshoots that are still to this day some of my best… All wrapped up in the bows of these little shoes!
My earrings are a more recent purchase, from the label On A Whim Designs. The face behind On A Whim is Jacquie South, a woman who has know me since I was a little girl! She runs her label from my hometown, the Wheatbelt town of Darkan in rural Western Australia. I've acquired many of her colourful creations over the years, and whenever I wear them it's like putting on a little piece of home!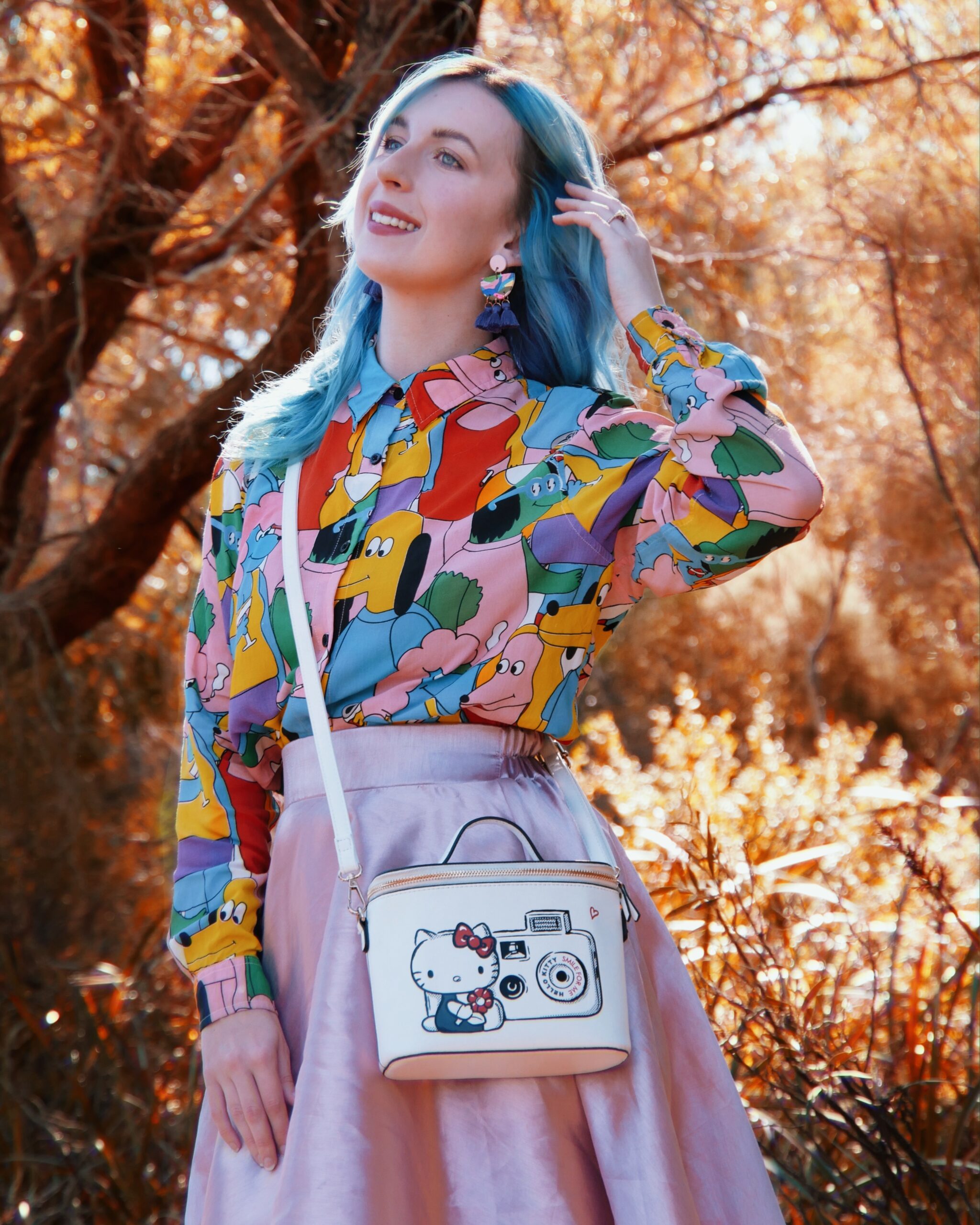 My skirt was a secondhand find from one of my favourite op shops. I've been a thrift shopper for many years, and love finding awesome (and often unexpected) pieces! I find myself wondering about the story behind them… Who was it that owned this skirt before me? Was it with them during a profound moment in their life? I find I often think of special pieces I have parted with in the same way too… I wonder, does the former owner of this fabulous skirt ever muse on where it ended up?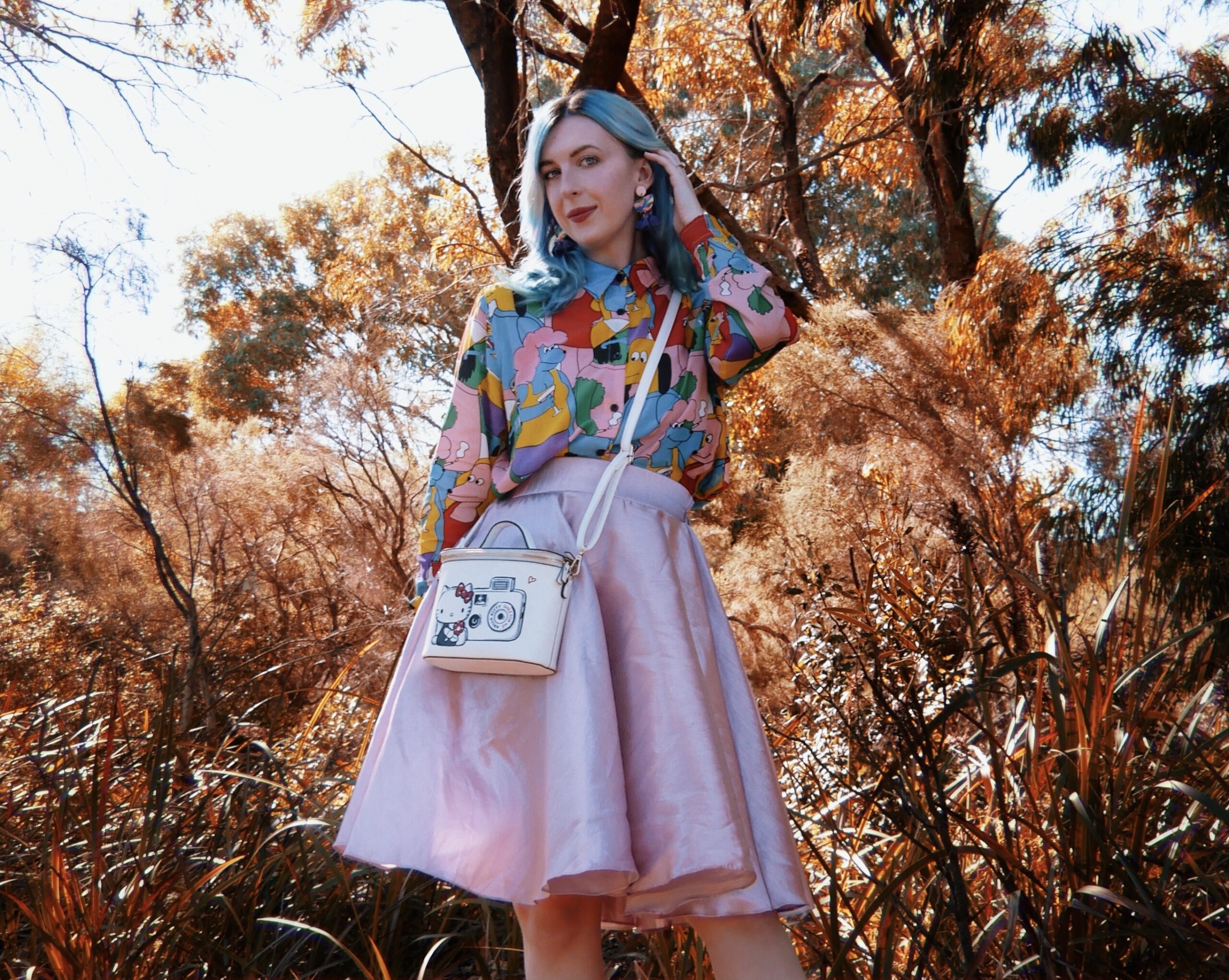 My adorable camera bag was a gift last year from the lovely folks at Hello Kitty! I have been a part of the Hello Kitty Gang for many years, and the cuteness of HK pieces still brings a smile to my face even as I get older… Some things never change, I think I will always be drawn to cuteness! This bag is the perfect size to fit my treasured Lumix G7 camera, and is where it usually lives. In my day job working in marketing I always use my camera, and my colourful self can usually be spotted toting it around in this!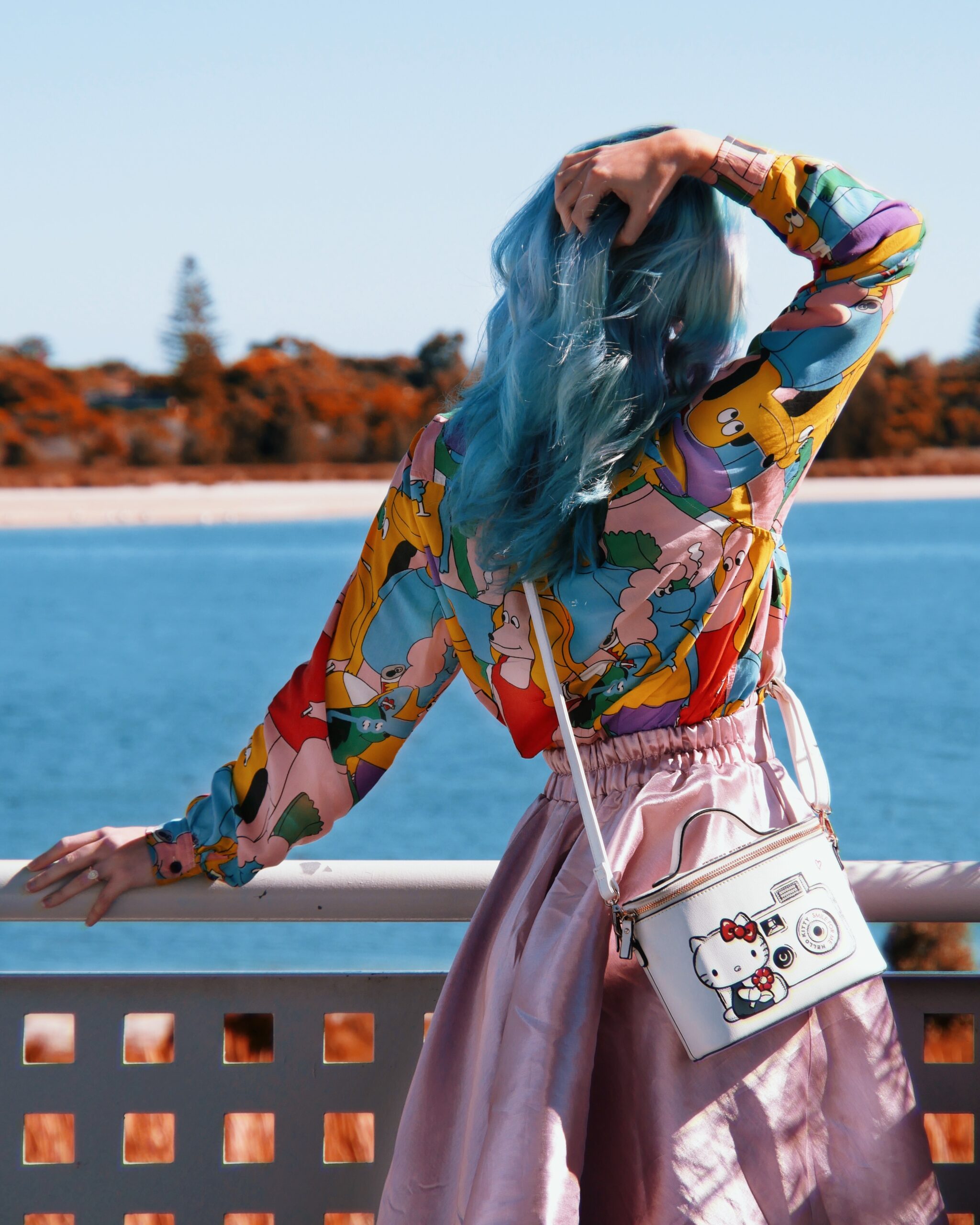 To me, clothing and accessories are storytellers. They draw out memories of time and place in the same way that smelling a perfume you once wore or hearing a song from your childhood does. It really is like putting on a memory and taking it for a spin. When you next wear something you've owned for years, I ask that you think back… Would your former self at the time you bought it have ever pictured you being where you are now? How have things changed for you since that time? Lets get sentimental… 🙂