A home of our own!
Goodbye renting, hello first home ownership! At the end of last year, Alex and I started the process of buying our first home… Something we've both dreamed about for years. After a smooth settlement, we moved in during January and have hit the ground running with renovation activities and planning. Alex is a carpenter with a bachelors degree in interior architecture, and I'm a designer and lover of DIY… So we both can't wait to get creative with our first home!
The house was built in the 1980s, has four bedrooms, two living rooms, a quaint kitchen, a teeny tiny bathroom, a compact laundry, and a big sleep-out room at the back. We hadn't thought we'd be able to own a home this early on and let alone one of this size, but this place popped up as a public trustee sale bargain (and 'renovators delight'), just as our lease was due to end. It was meant to be, and exactly what we wanted!
We are looking forward to sharing our renovation adventures with you all through my blog and social media! I'll be popping up a series of these diary-style update posts to track our progress, as well as some more focused posts about particularly interesting things along the way (definitely expect some DIY tutorials!).
The vision…
A bright white base, with colour injected through bold, eclectic decorating and furnishing… If I was asked to sum up our vision in one sentence that would be it!
Pinterest has been our best friend the past few months, and we have gathered an ever-growing treasure trove of images to inspire our creative direction (if you want a peek at our board, check it out above). There are hundred of funky snaps filed away there for reference and ideas, and we're still always adding to it!
Painting Begins…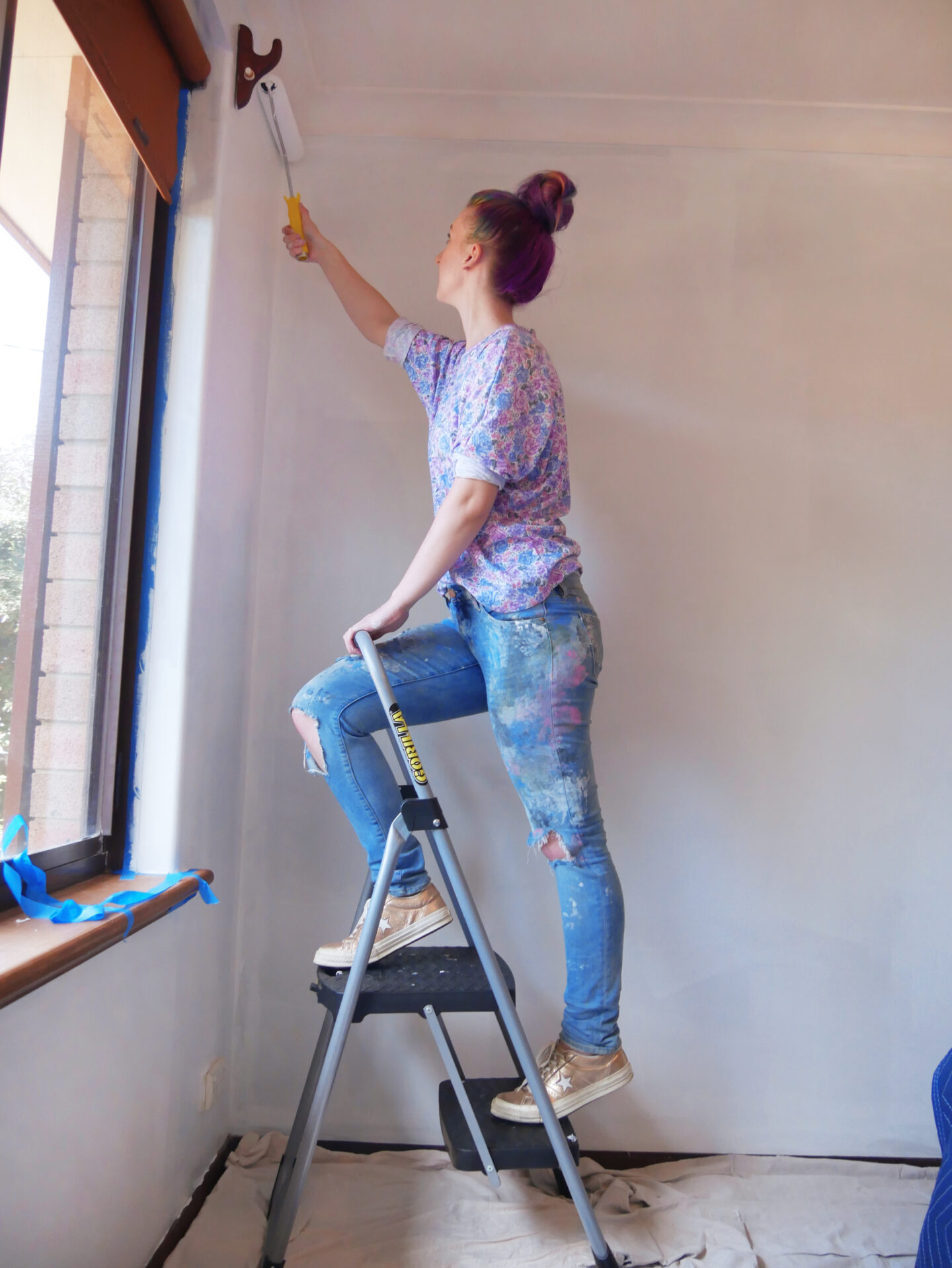 Painting has been at the top of our list of things to get done initially! With wanting white to be the base tone of the home, we first had to select our main paint colour. Picking a white is not as straightforward as you might think – There are many different hues of white to choose from! We chose the colour 'Lexicon Quarter' from Dulux, an airy cool-toned white that would make the perfect neutral undercurrent to a home bursting with colour!
What greeted us upon moving in was a home with a paint colour scheme the opposite of what we would pick for ourselves – BEIGE AND OLIVE! As much as the muted beiges and olives of the 80s are a vibe… That vibe is totally not us! Upon laying down the first strokes of white, the difference a few coats of paint would make was already very apparent.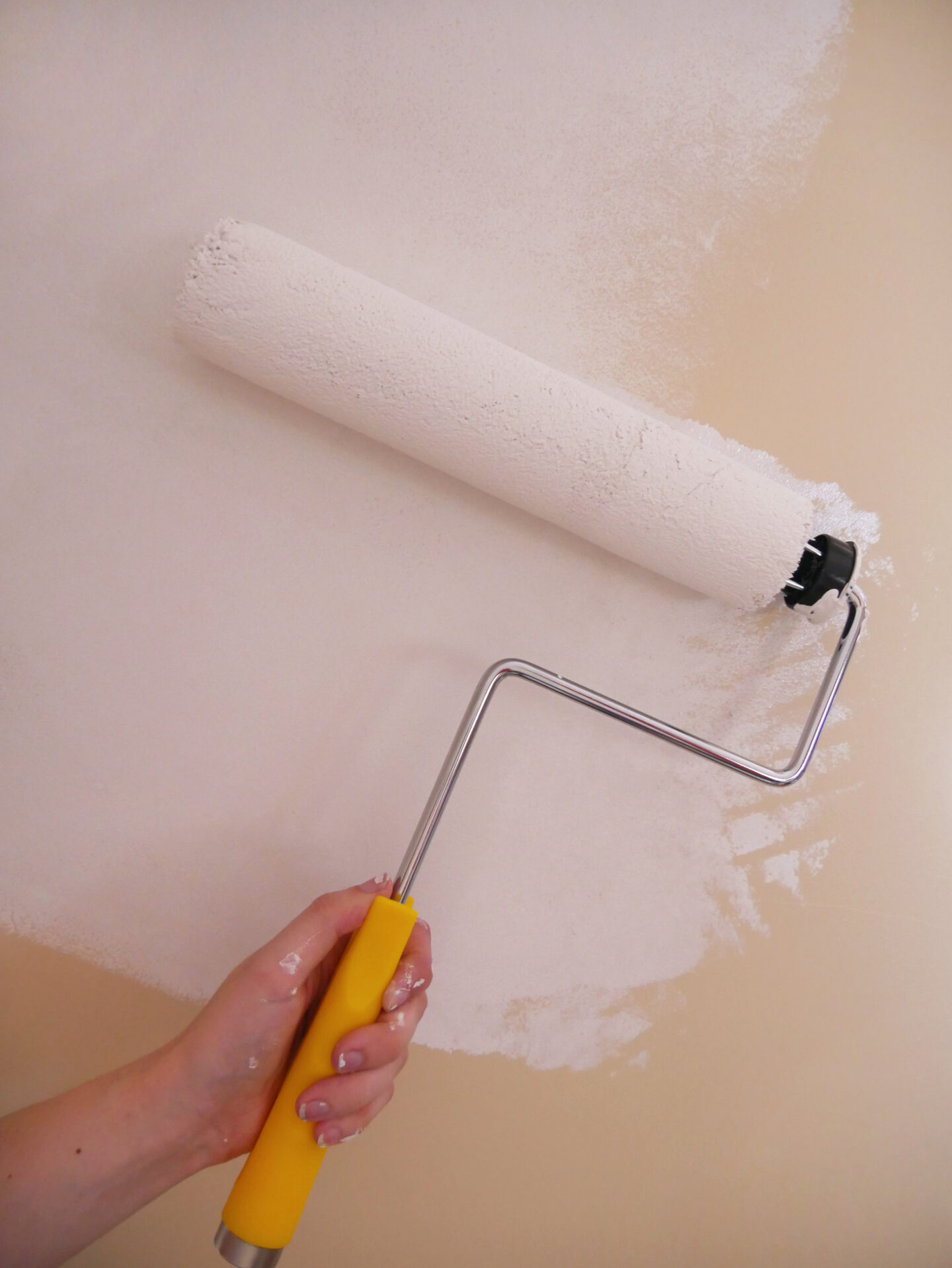 So far we have painted our bedroom fully (three coats were needed!), two coats in the dining area, two coats in the hallway, and are part way through the living room and the kitchen… With every room in the house needing to be painted, there is still a long way to go (but luckily, we have lots of Lexicon Quarter!).
My New Studio
Another room that has now been completely painted is my new studio space, although this one isn't white. The room we have allocated for my studio is the second living area which opens out onto the dining area, so we decided that a pop of bold colour on the walls would be perfect in here! As the studio walls are visible from the dining area (and it gets the loveliest, soft afternoon sun) we wanted to make the most of it and inject some colour to peek through into the rest of the home.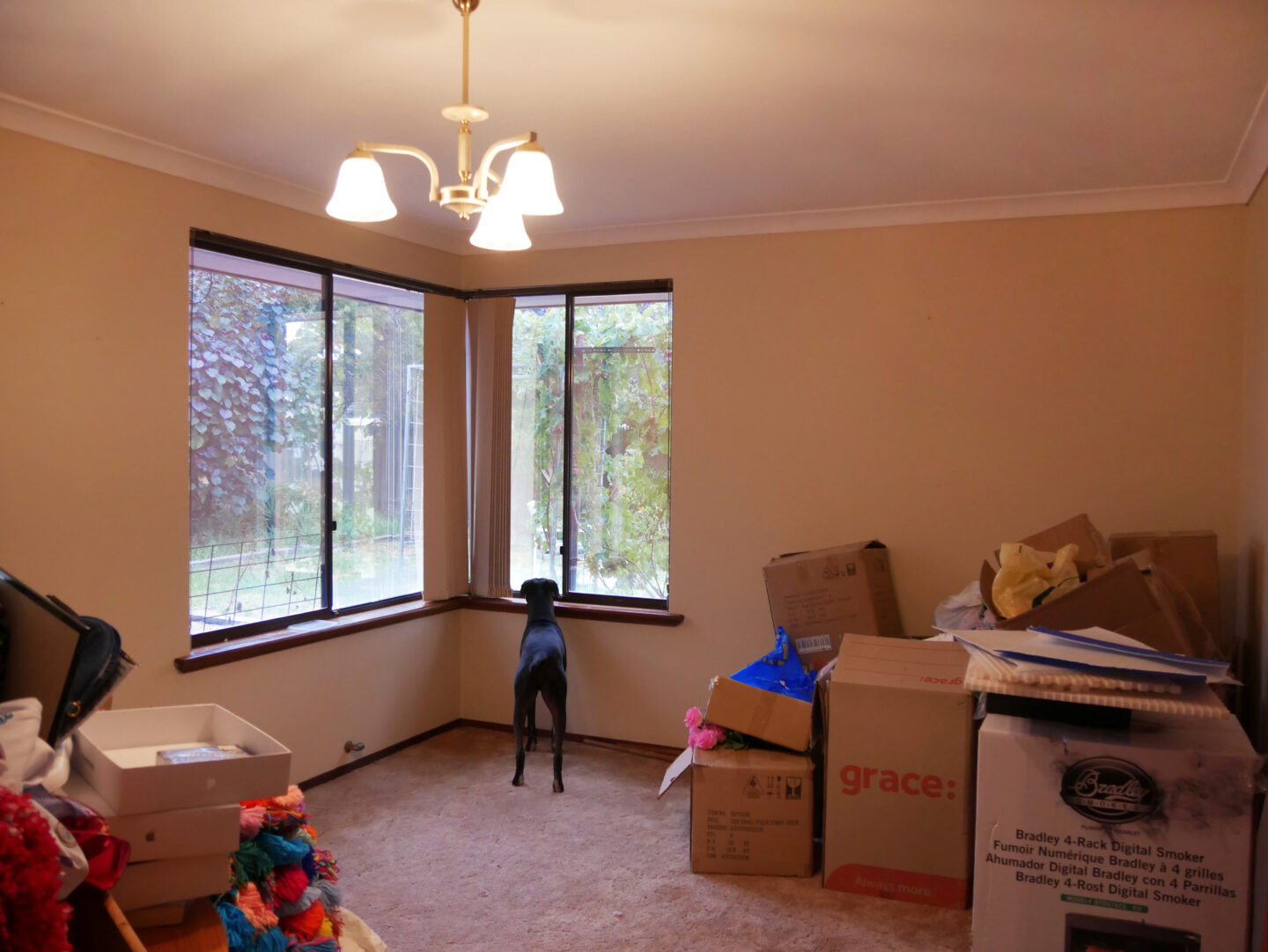 We narrowed it down to four colours, and purchased sample pots of each. Some of these may make an appearance elsewhere in the house as they are all lovely hues, however it was the emerald shade 'Green Paw Paw' from Dulux that emerged victorious from the swatch testing. It makes such an impact as a whole-room colour, and we are so pleased with the result! The room is still a bit cluttered with boxes, so expect a full reveal once I've dealt with those… But you can get a little peek at the painted walls in my TikTik video a little further down.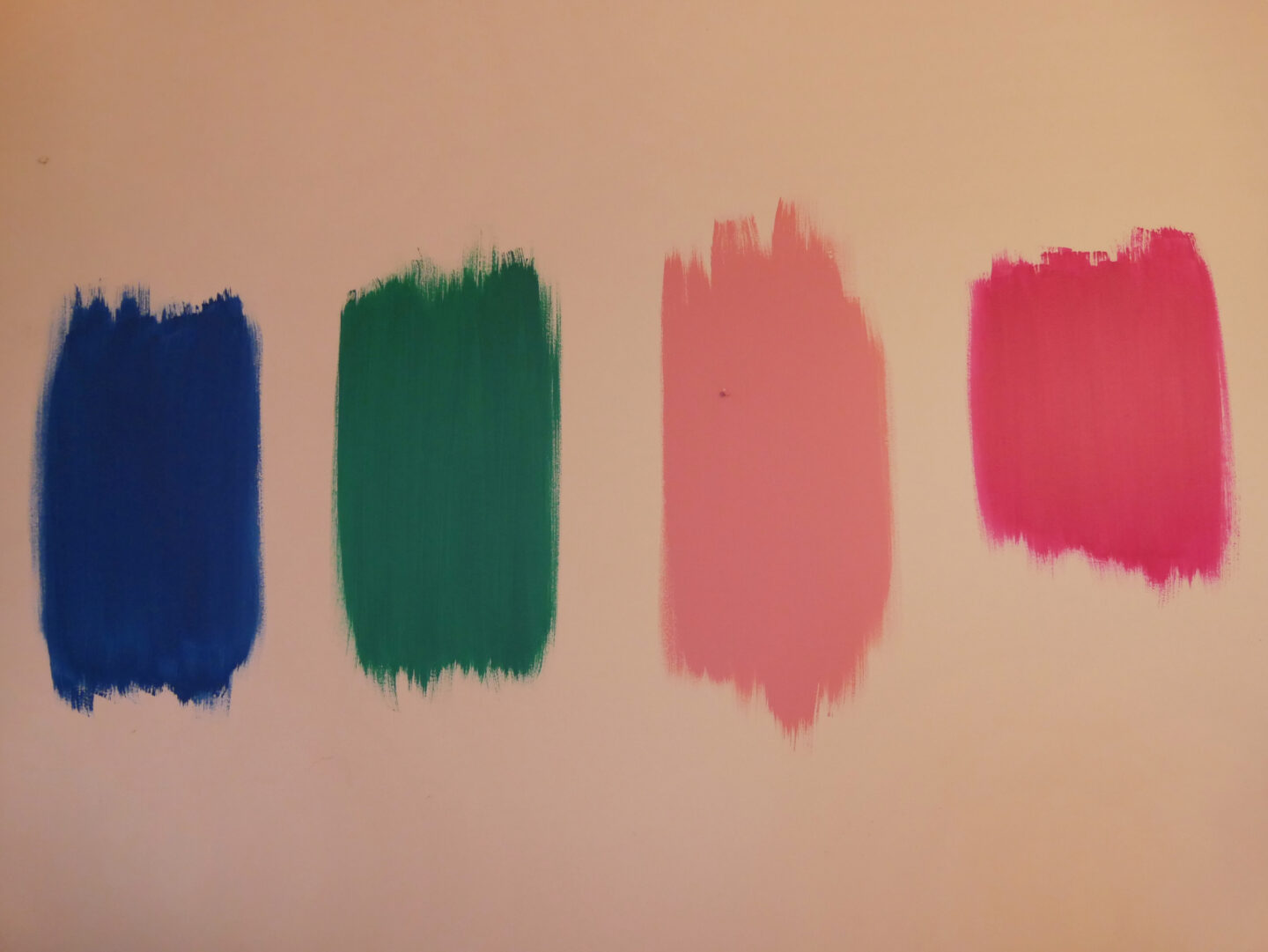 As well as painting, I have started collecting a small army of plants around the studio window… That afternoon sun I mentioned previously is wonderful for plants! The plan is to hang more around the windows, and as the room progresses more will be added in their correct spots, but for now its lovely to just have some leafy goodness in the space. The green walls and green leaves of the plants give the room a really soothing vibe… I can tell it is going to be a calming room to be in once its complete!
Flooring – The Good, The Bad, and The Ugly!
Tiles, wood, vinyl, carpet – There are so many options we have been considering! Currently, our un-renovated house has vinyl throughout the dining area and kitchen (which isn't the worst… but we are still keen to change it to something a bit snazzier!), old brown tiles in the laundry/bathroom/toilet, and what it likely the original carpet throughout the living areas and bedrooms. Our sleep-out room has a layer of vinyl placed over the top of bricks, which our dog Zurko has already started removing himself… haha!
So far, our flooring journey has seen us check out copious amounts of tiles at many different places, which has been an interesting experience! A man who was presumably the owner of one tile shop that we visited greeted us at the doorway by immediately telling us that the tiles we were looking at were expensive, and directed us towards other tiles in the shop… Oh how I love people just assuming we can't afford things because of our age/appearance!
The next place we visited was Ceramico in Rockingham – Lovely people and amazing service, a complete contrast to our previous experience! Instead of assumptions being made about us, we were offered a coffee, given lots of helpful advice, and browsed through their great range of tiles and bathroom goodies. If you live in the Rockingham area and are renovating, I 100% recommend a visit there!
They were very helpful in investigating further with their supplier to see if they could find some more funky floor tile options in terrazzo tiles for us. The tile sample they ended up getting in for us to look at is gorgeous! We narrowed down our floor tile of choice to either the one they ordered in, or another terrazzo they had in store… Ceramico were kind enough to let us take both tiles home to have a look at in the rooms we would put them in, which was so helpful. Upon seeing the tiles in situ, we've decided that we like the one that was already in store the best (which surprised me, as in store I hadn't thought it would be an option! Alex knew better though, and I'm glad he took it home with us to see what it looked like). Those of you on Instagram seemed to have a soft spot for the one that was ordered in though – 60% of you preferred it in my Instagram story poll!
Another honourable mention from our tile search is Craft Decor in Fremantle – They have a great range (including those super cute iridescent mosaic tiles in my images above!), and were very helpful in discussing what other options they could order in for us. They are another place I would recommend checking out if you're on the hunt for the perfect tile, and want someone who will help you to find it, beyond just what they have in-store!
First furniture finds
With a new home comes new furniture! We have had most of our furniture since we moved into our first rental property back in 2011, and over that time our taste has changed. We also sustained a casualty in the move… Our dining table (which was already breaking a little from our previous move a few years ago) finally succumbed to its injuries! When we opened the moving truck door, there it was in a heap sans two legs and its fold-out leaf! This dining table was given to us by my family, and has been with me my whole life. My parents bought it secondhand for their first home, and it features in my childhood photos albums in many a birthday party snap. My sentimentality won't allow me to get rid of it, so Alex is going to repair it and we will use it as a table for some plants in our sleep-out room… It's long life continues in yet another incarnation!
So upon moving, a new dining table was definitely in order! And what did I happen upon in a Vinnies secondhand store, but this funky cane setting…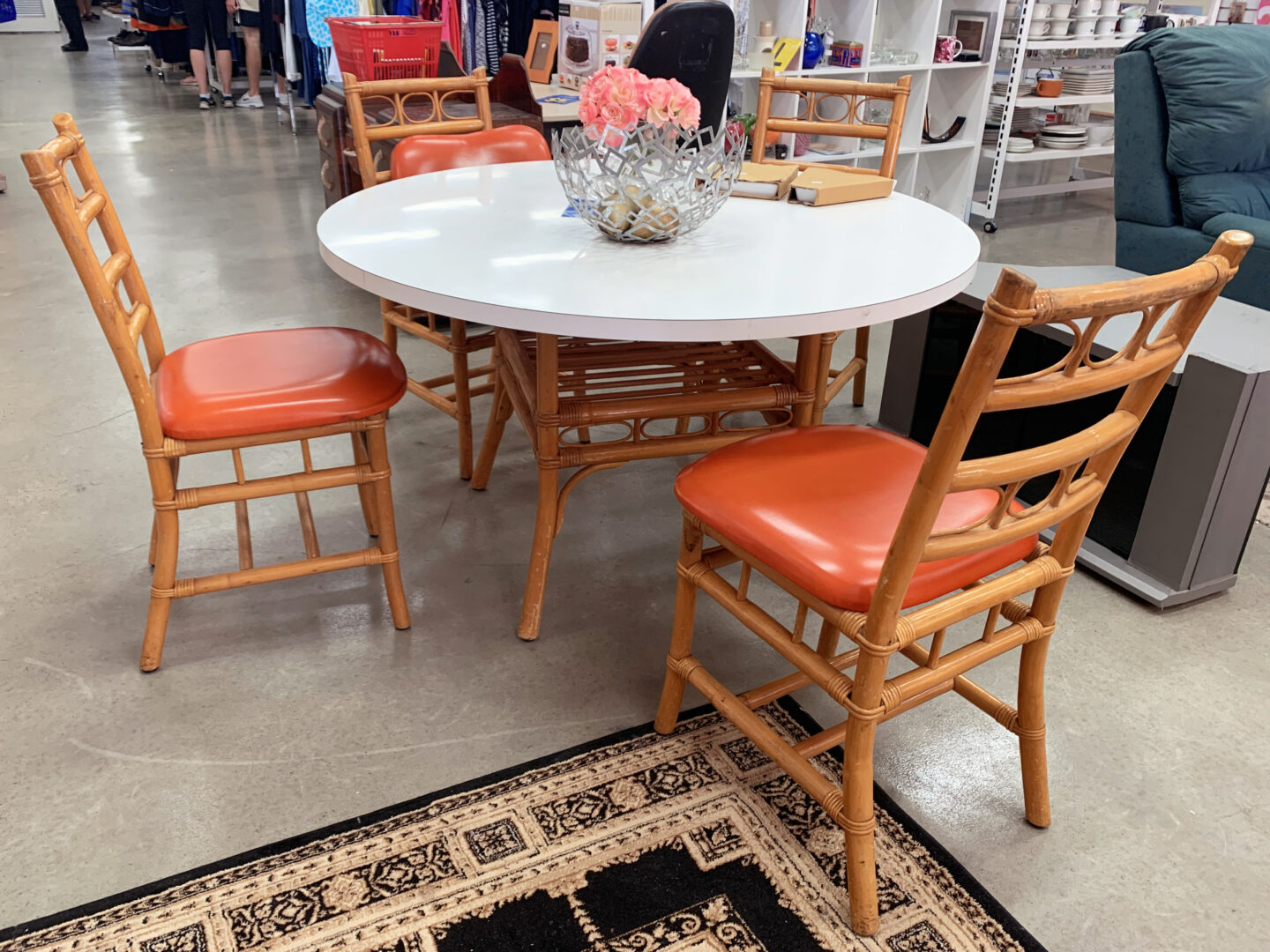 It needs a little bit of TLC (reupholstery on those chairs, and possibly a new tabletop), but it has great bones and suits the eclectic boho-style vibe we are going for. Plus we love a good restoration project, so no complaints here!
I also picked up this cute little dressing table and chair from an Instagram secondhand seller 'Preloved Treasures Perth WA', and this cane bed head from a seller on Gumtree. The bed head was originally unpainted, however a makeover was definitely needed to give it a new look!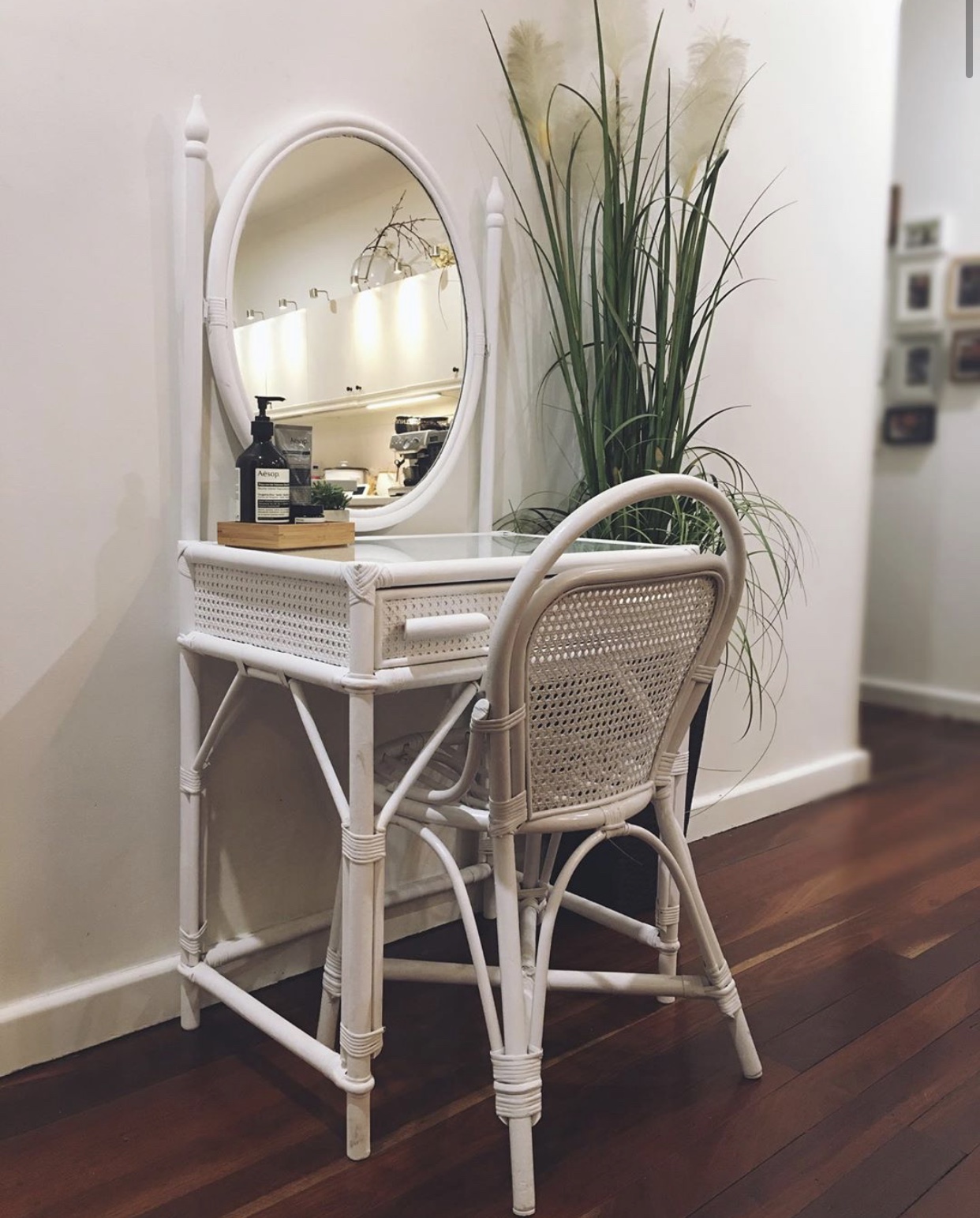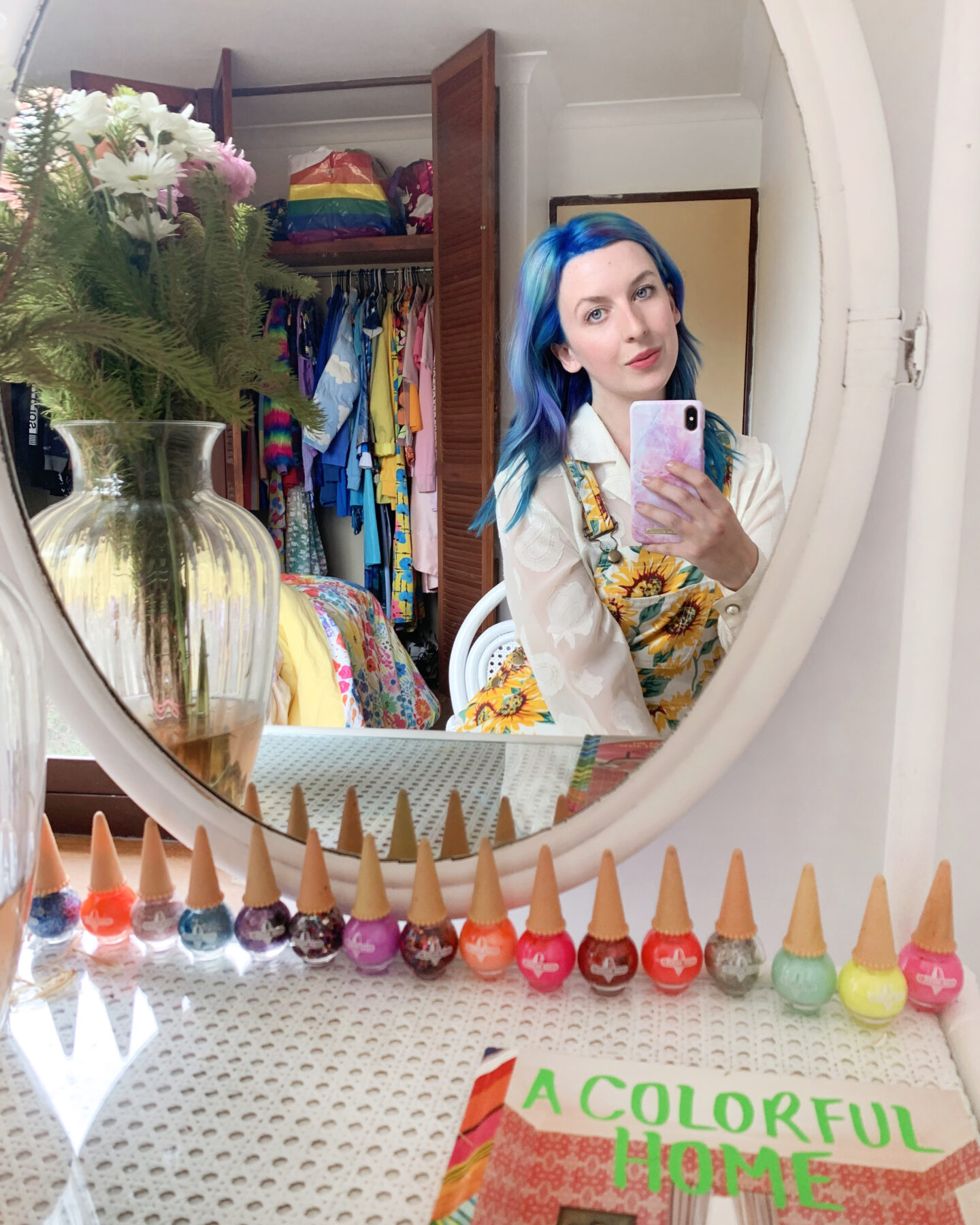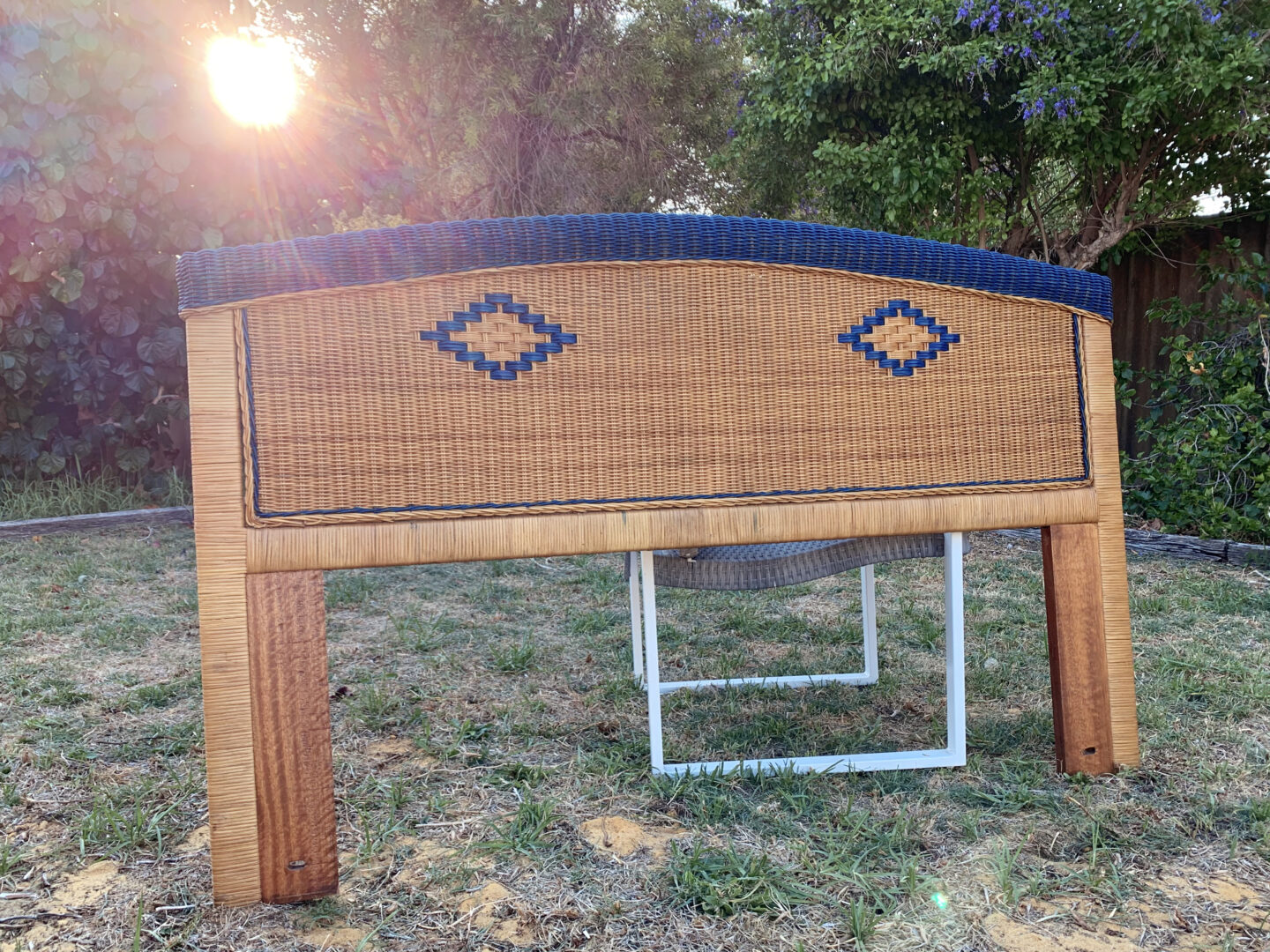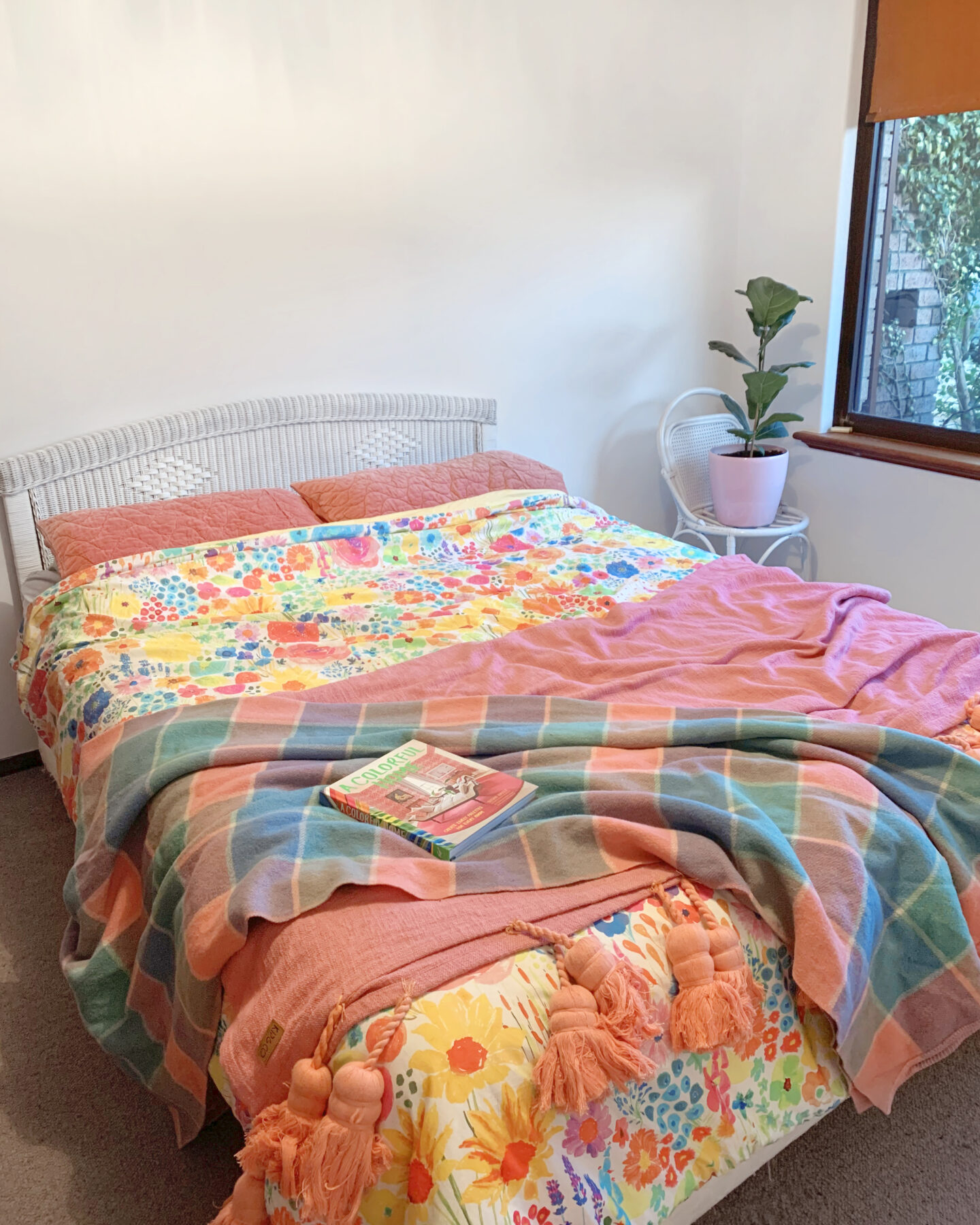 ---
And so concludes the first entry in my home renovation series! This one was somewhat all over the place, as upon moving in we did bits and pieces all over the house and lots of initial planning/browsing, so I had a lot of 'little' things. However, for the upcoming posts I will be able to make things a bit more neat and tidy as we focus on things more specifically… Less little bits 'n' bobs, more BIG things! 🙂

Kate
x