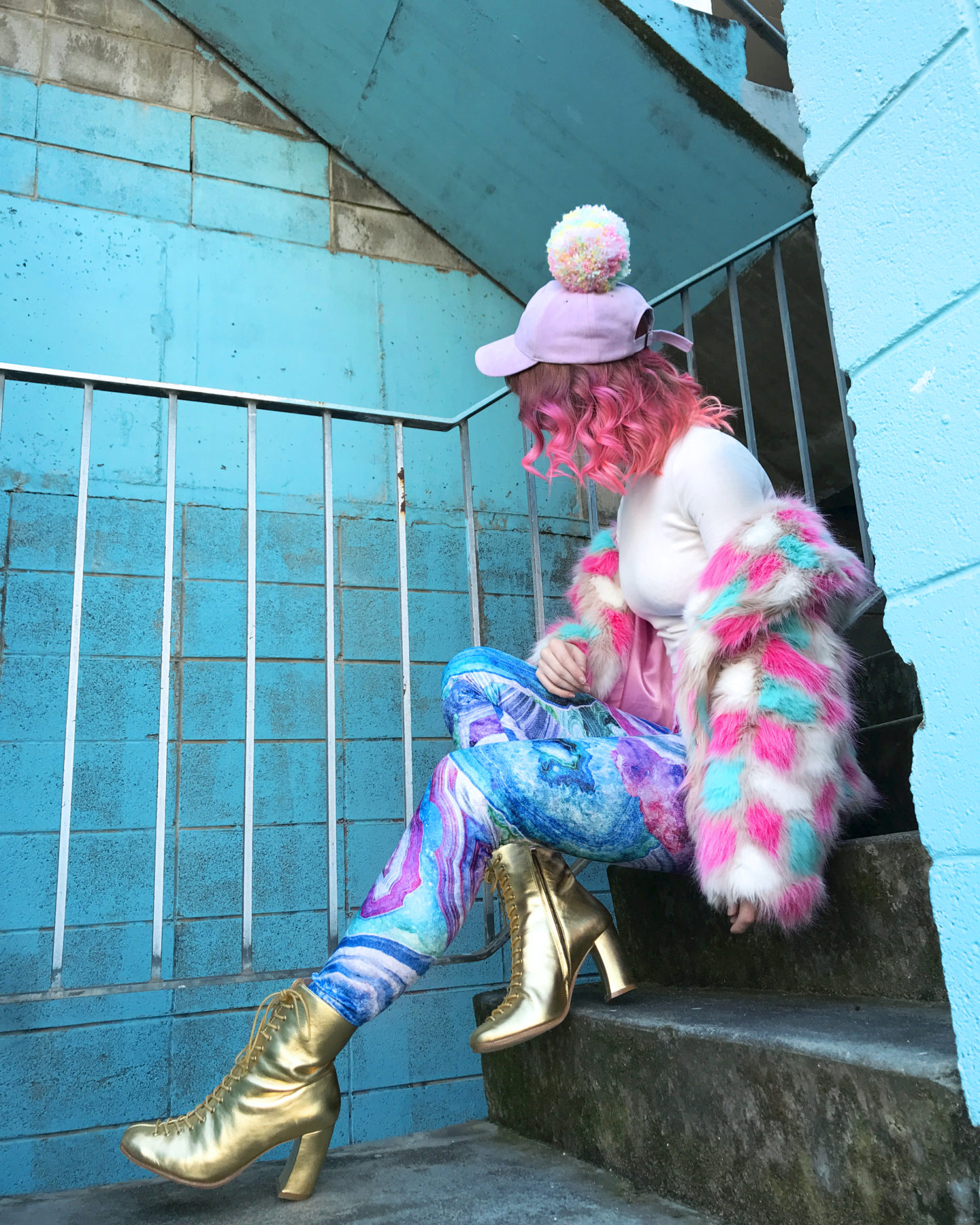 Recently, I was gifted some beautiful pieces from BlackMilk Clothing's upcoming collection 'Utopia', which drops tomorrow (Tuesday 7th August, 7AM AEST). Leggings, shorts, and a skirt all in the same fabric – an eye-catching holographic velvet, printed with crystal geodes. Receiving these gorgeous matching pieces presented me with the perfect opportunity to style some co-ordinated outfits to give examples of how to wear the one print in three different ways… Read on below to see three different incarnations of this lovely fabric (and take a peek at the rest of the dreamy collection on BlackMilk's website HERE)!
OPTION ONE: LEGGINGS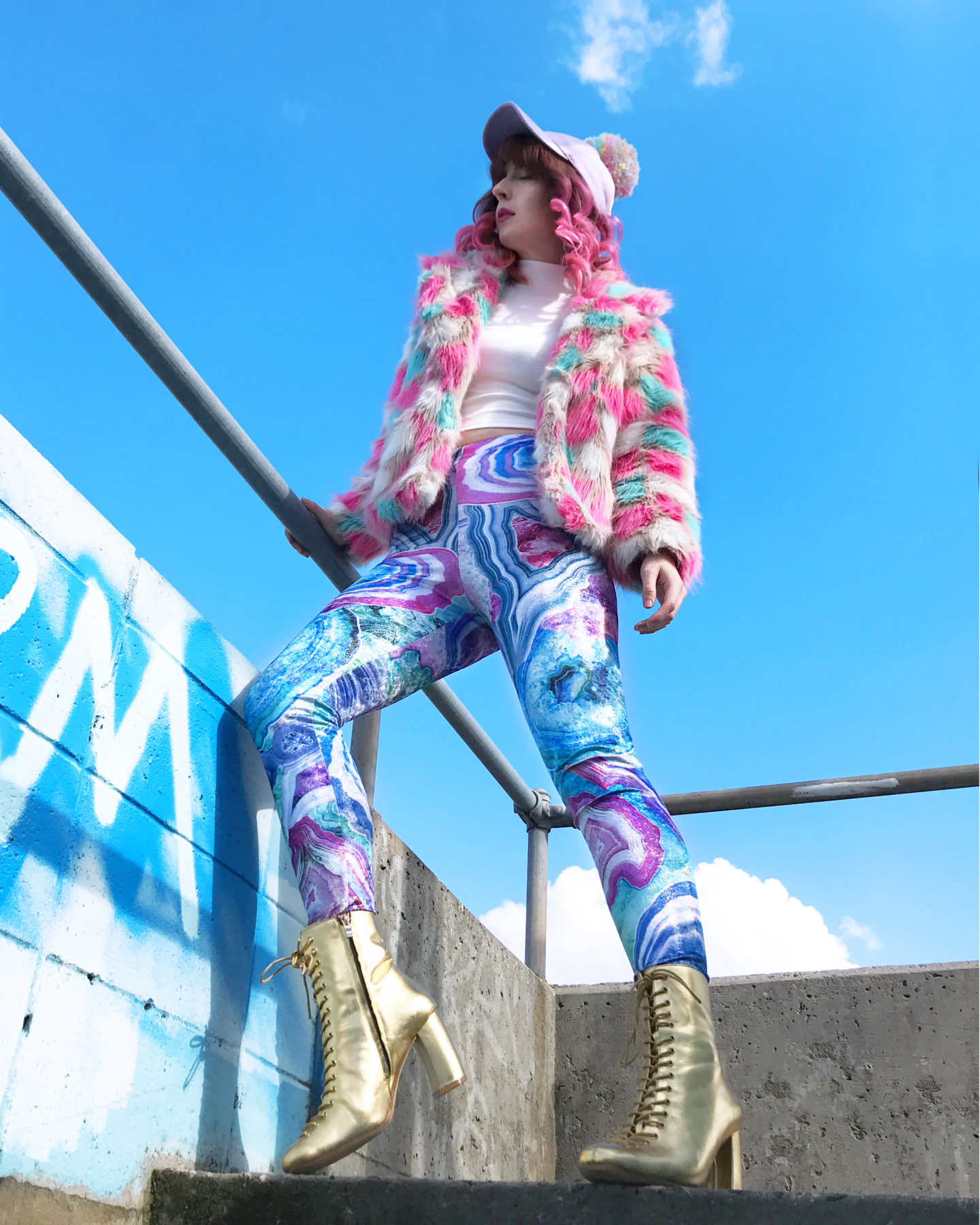 The first option for rocking this bold print is in the form of leggings – a BlackMilk staple! Leggings are one of the cuts that BlackMilk is known for, and from personal experience wearing them I can tell you that they do them extremely well. The difference in comfort and quality between BlackMilk Clothing leggings and cheap fast fashion leggings is HUGE! If you're a leggings lover I highly recommend spending your money on one pair of BlackMilk leggings over multiple pairs of cheap leggings… Not only will you be supporting an Aussie company that manufactures right here in Australia, you'll also have a high quality pair of leggings that will last for years to come and fit like an absolute dream!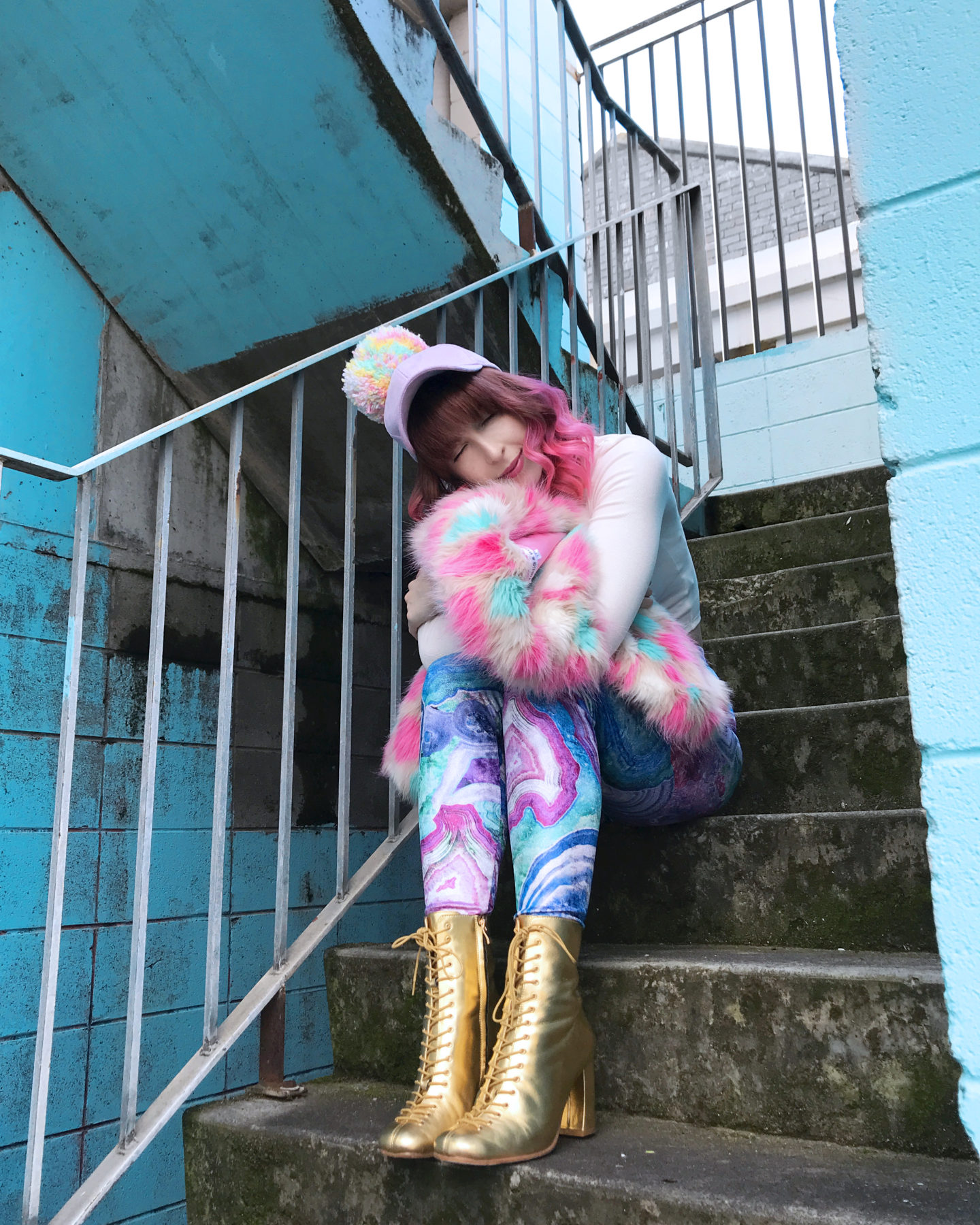 I chose to pair these leggings with a pop of matching metallic gold (in the sun this fabric shimmers with a golden holographic finish… Such a bummer its been a cloudy few days in Perth and I couldn't fully capture that element to it!). These boots are a recent acquisition of mine from ZOMP, and I am already so in love with them!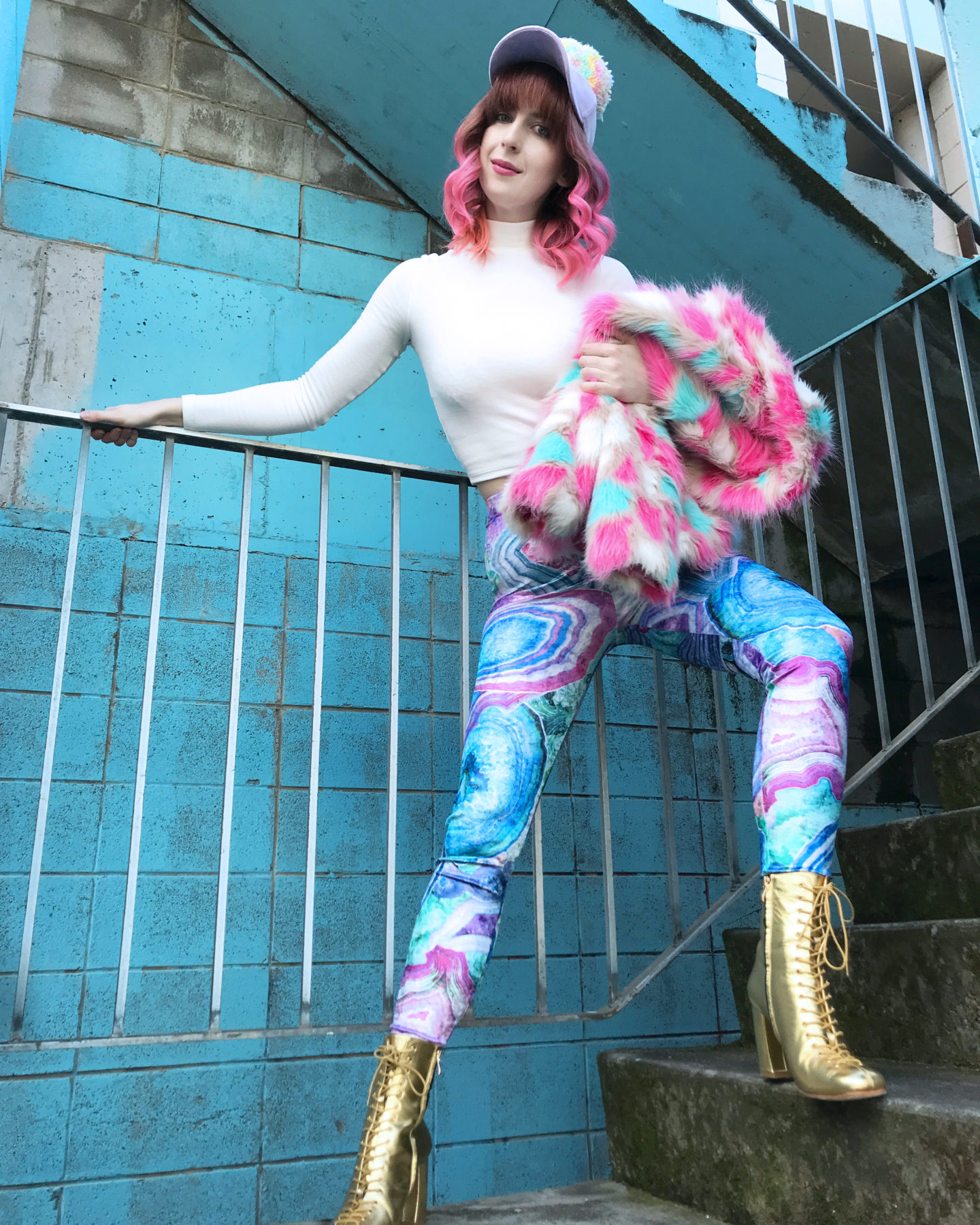 I also layered a luxurious faux fur I have had in my wardrobe for some time from Tibbs & Bones. I love the way the colours on the leggings are a perfect match with the faux fur! A pom pom cap from my own label P'JUNK was the perfect fluffy finishing touch to this outfit of textural delights.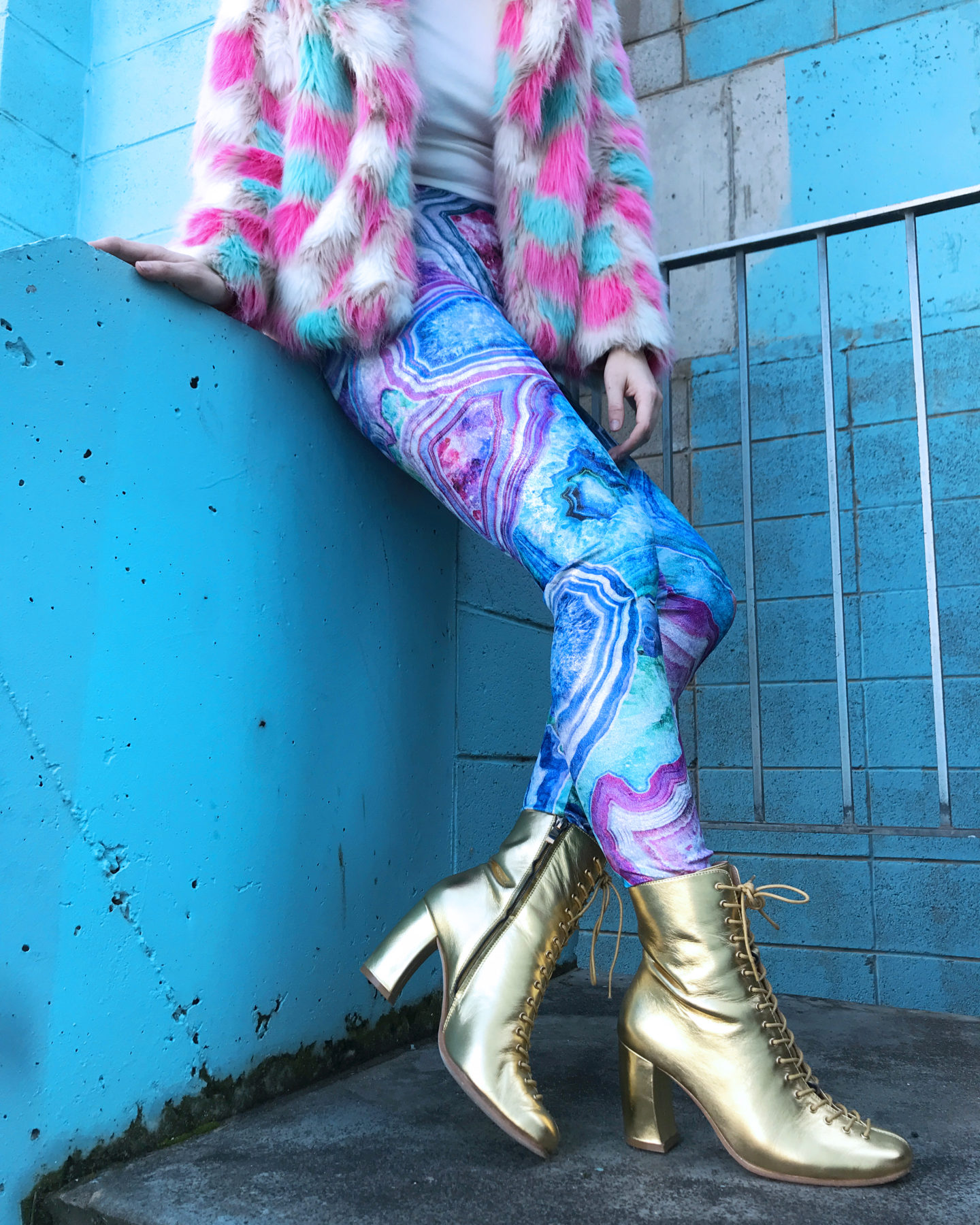 Leggings: BlackMilk Clothing
Top: General Pants
Shoes: 2 BAIA VISTA (available at ZOMP)
Jacket: Tibbs & Bones
Hat: P'JUNK
Option Two: Skirt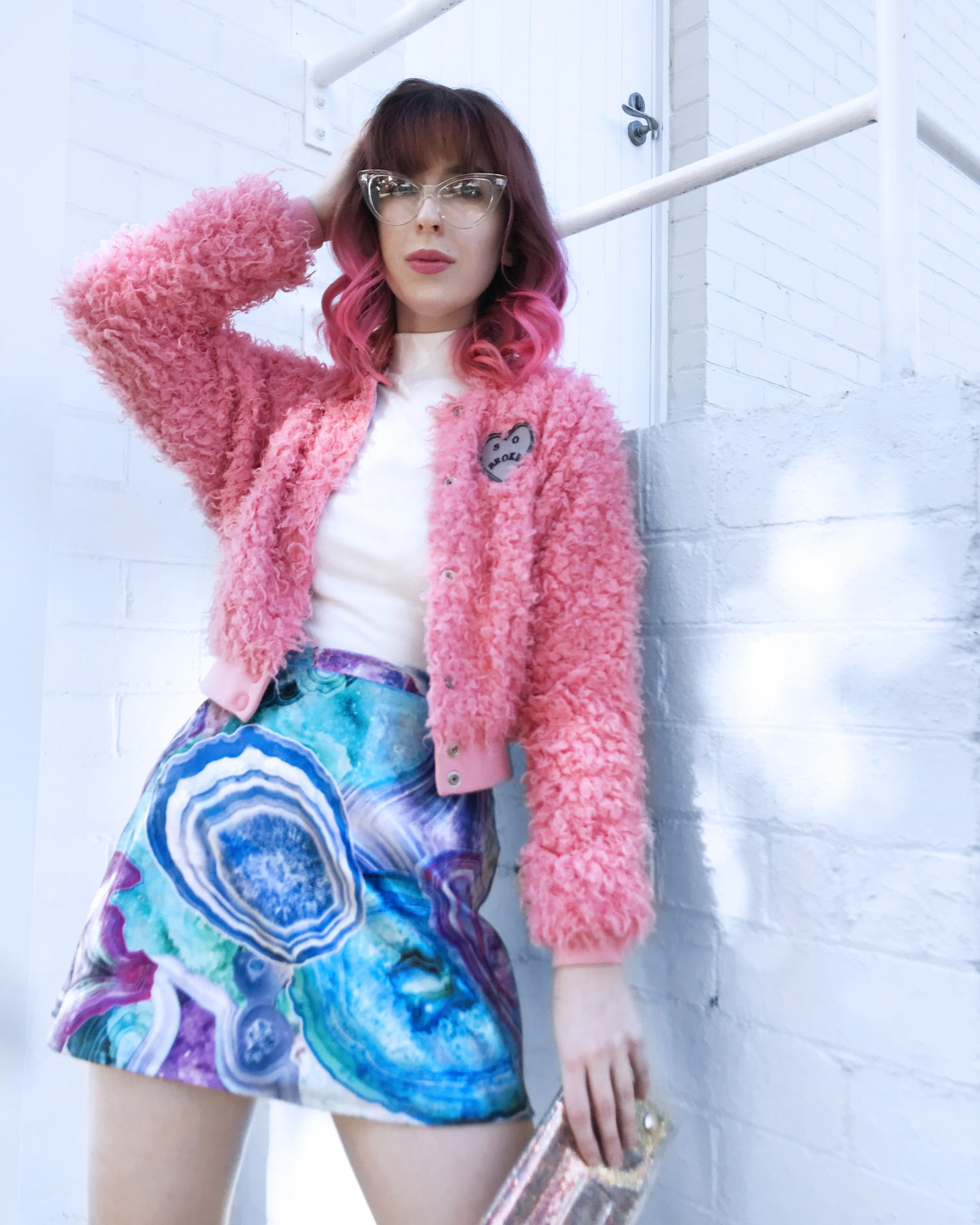 Next up – a super cute little skirt! I went for a more delicate, feminine take with this piece, going headwear free to let my bouncy curls blow freely. I kept on the same top and shoes (because you know I need to have those fabulous shoes on my feet as much as possible!) and added a more pared back fluffy jacket from Lazy Oaf for a softer, simpler silhouette.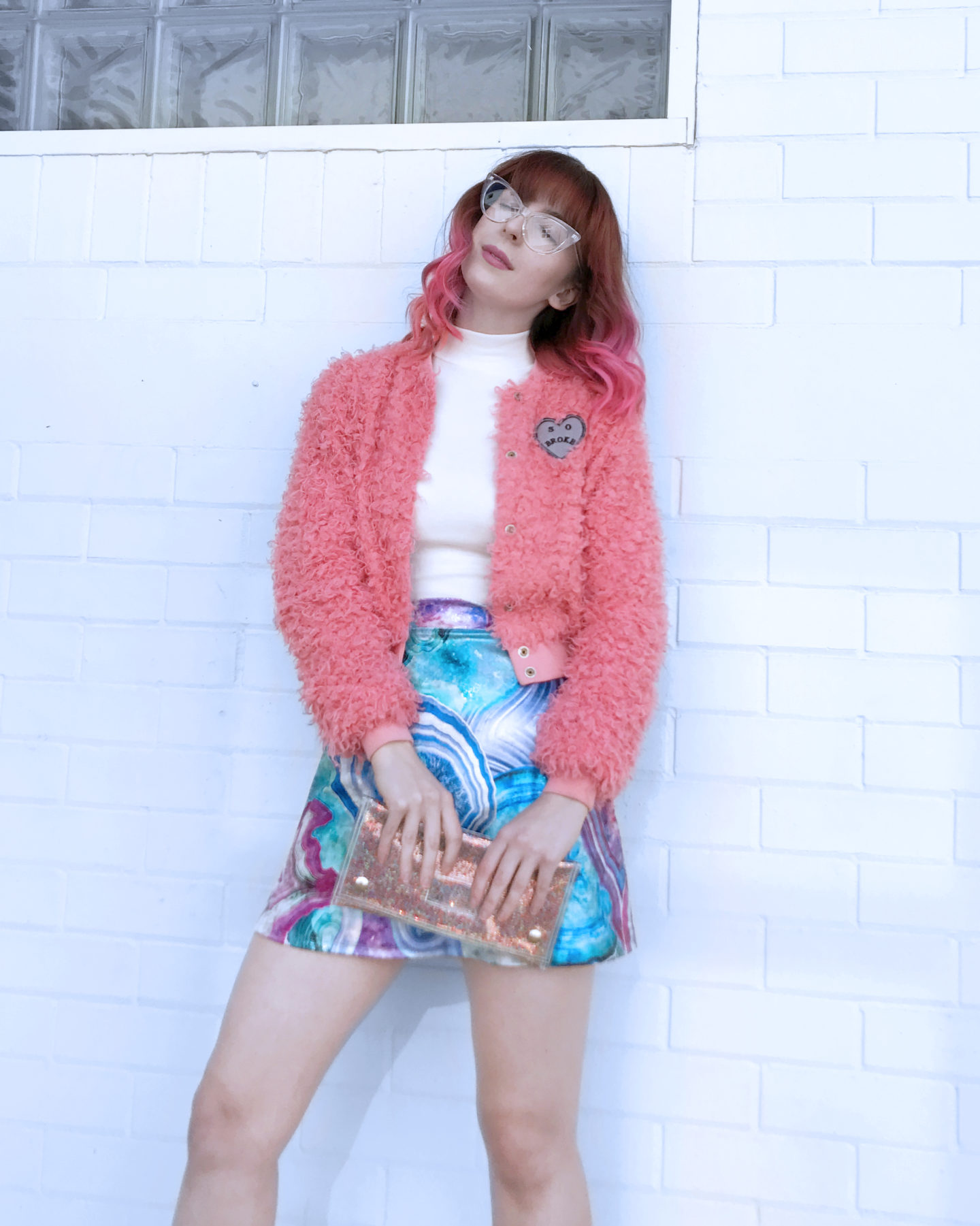 Another pretty touch to this look was my glitter filled clutch from S.RUSH – a special gift I have had for years, that still always attracts compliments whenever I wear it! S.RUSH is a local Western Australian label based out of Broome, and their glittery bags and headwear are a sparkly treat for the eyes – It's well worth checking them out!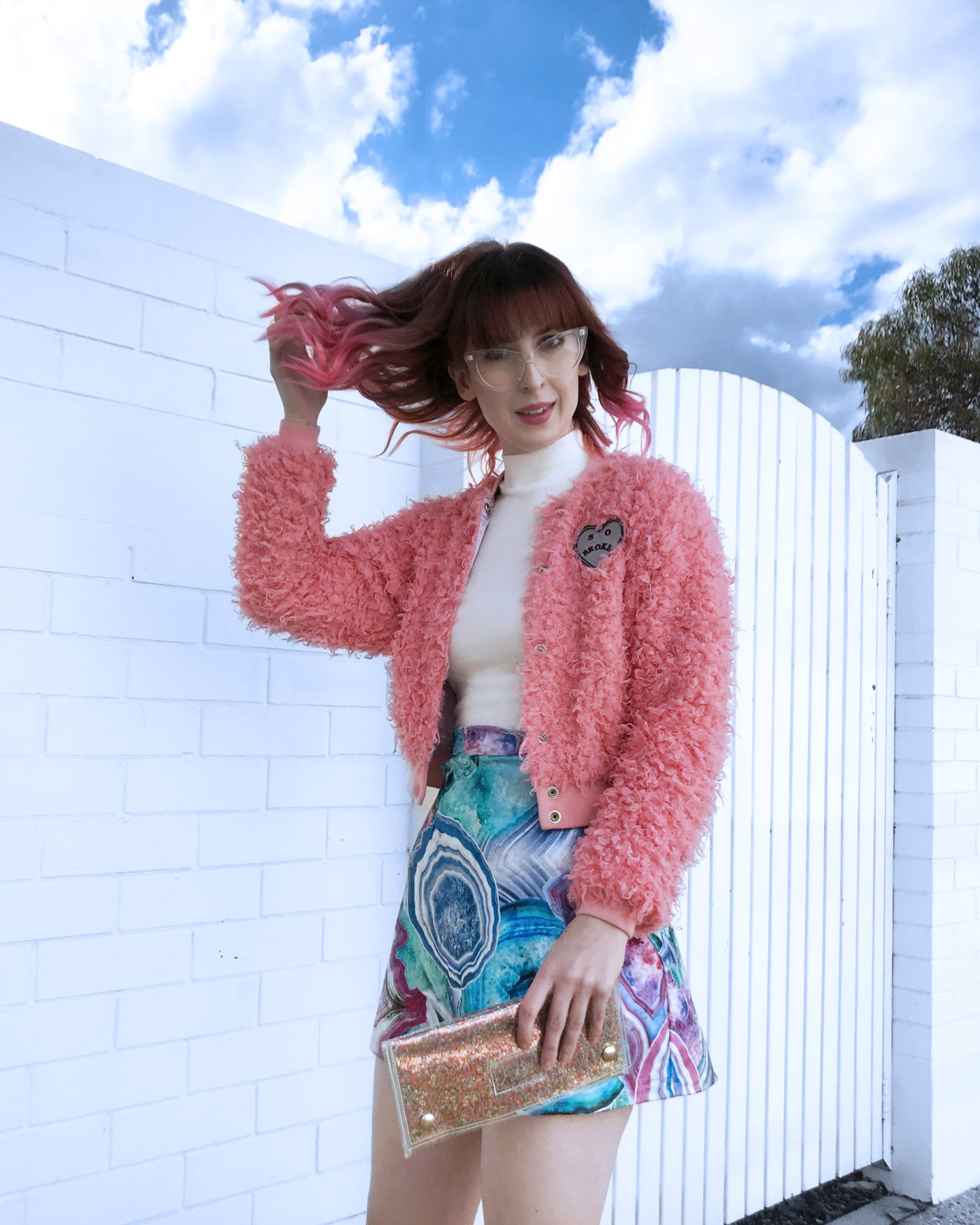 For a preppy vibe I popped on these cute glasses that my friend Devan gave me. If I had to wear glasses daily I definitely think I would rock a pair like this, they're such a nice shape!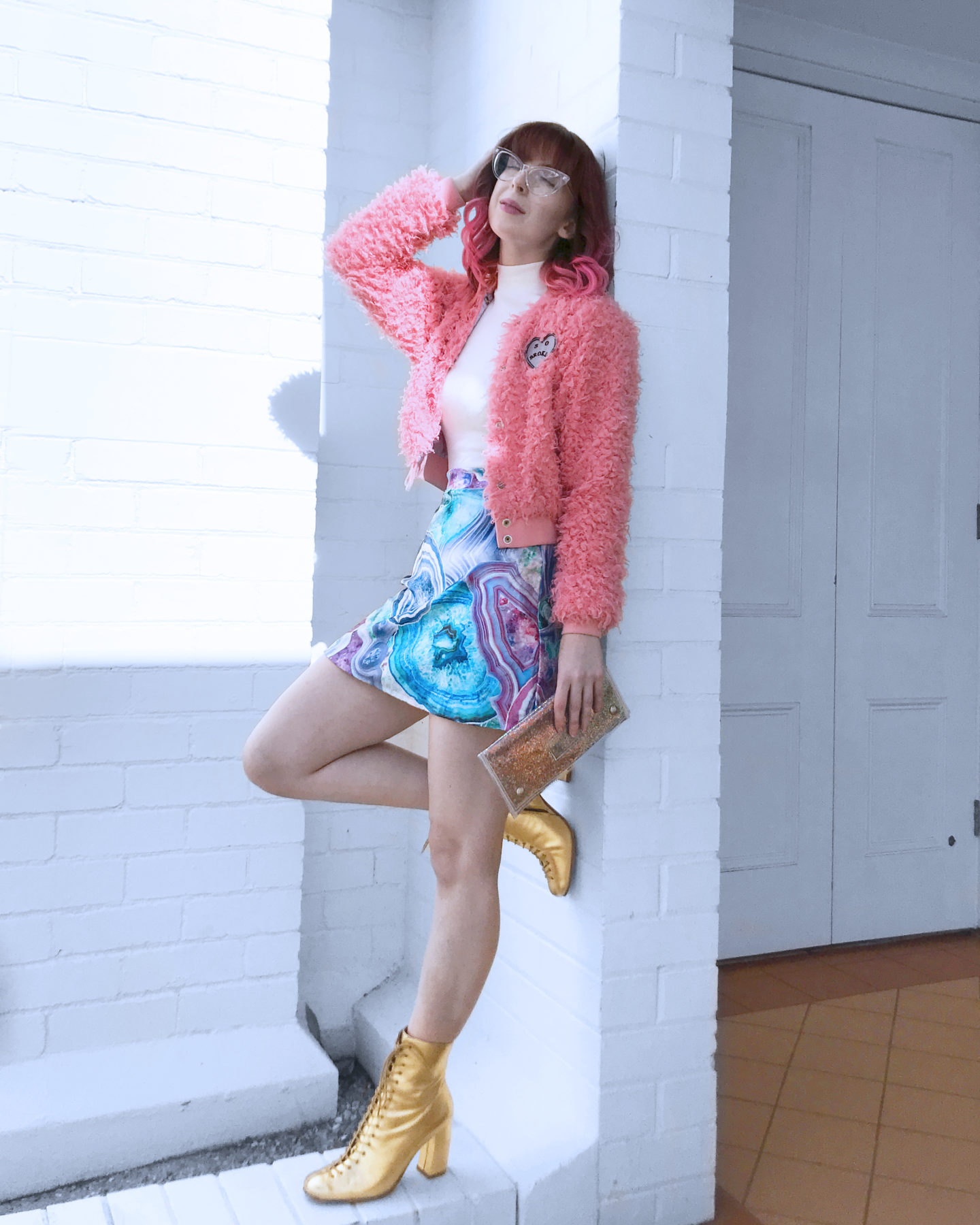 This skirt gets a great rating on comfort. I most commonly wear very full, voluminous skirts, however this a-line style gave me the pleasant experience of being able to wear a skirt without having to worry about it being blown up and around like crazy by the wind… Goodbye flashing my underwear at the poor people around me!!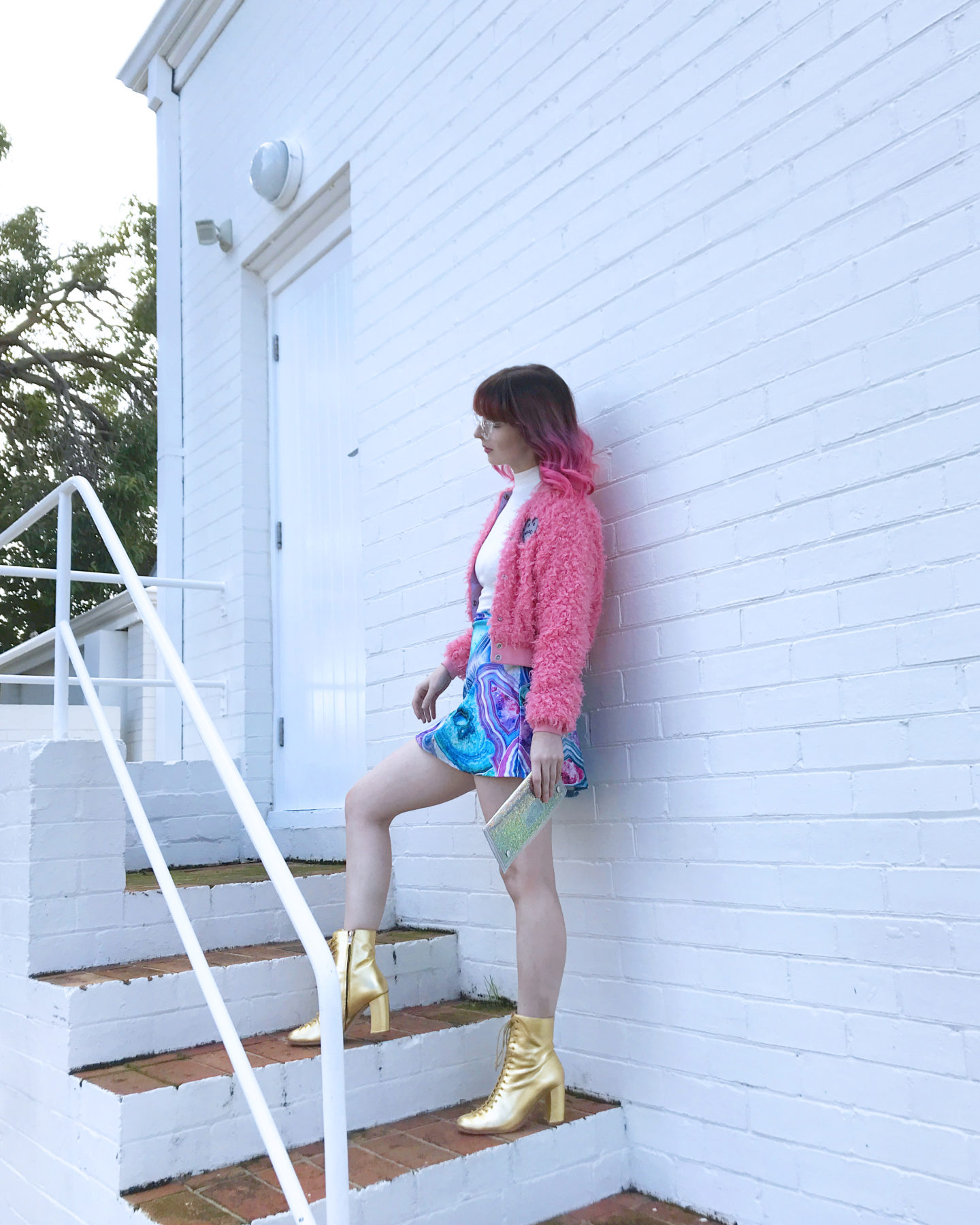 Skirt: BlackMilk Clothing
Top: General Pants
Shoes: 2 BAIA VISTA (available at ZOMP)
Jacket: Lazy Oaf (SOLD OUT)
Bag: S.RUSH
Option Three: Shorts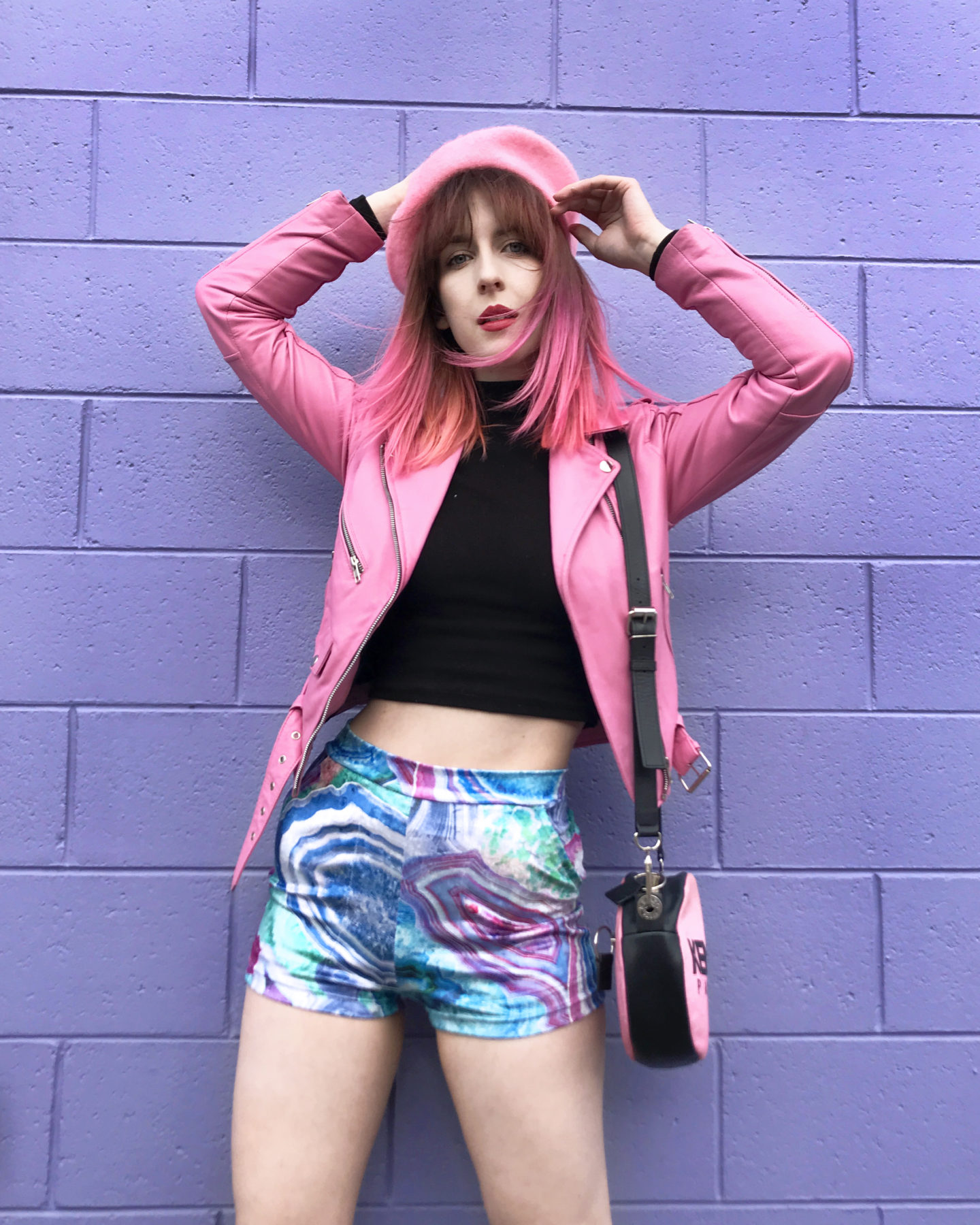 Lastly we have a pair of super short shorts… I'll admit I felt a little bit self conscious in these initially!! I don't usually wear shorts as I don't feel as comfortable in them as I do in looser/longer things (I tend to prefer to be more layered and covered up!), but the print on these and the stretch fabric made me want to give them a go. As someone who isn't usually a shorts wearer, I'm really glad I tried them out – I think they look pretty cute! Maybe all my years of avoiding shorts have been a bit misguided?!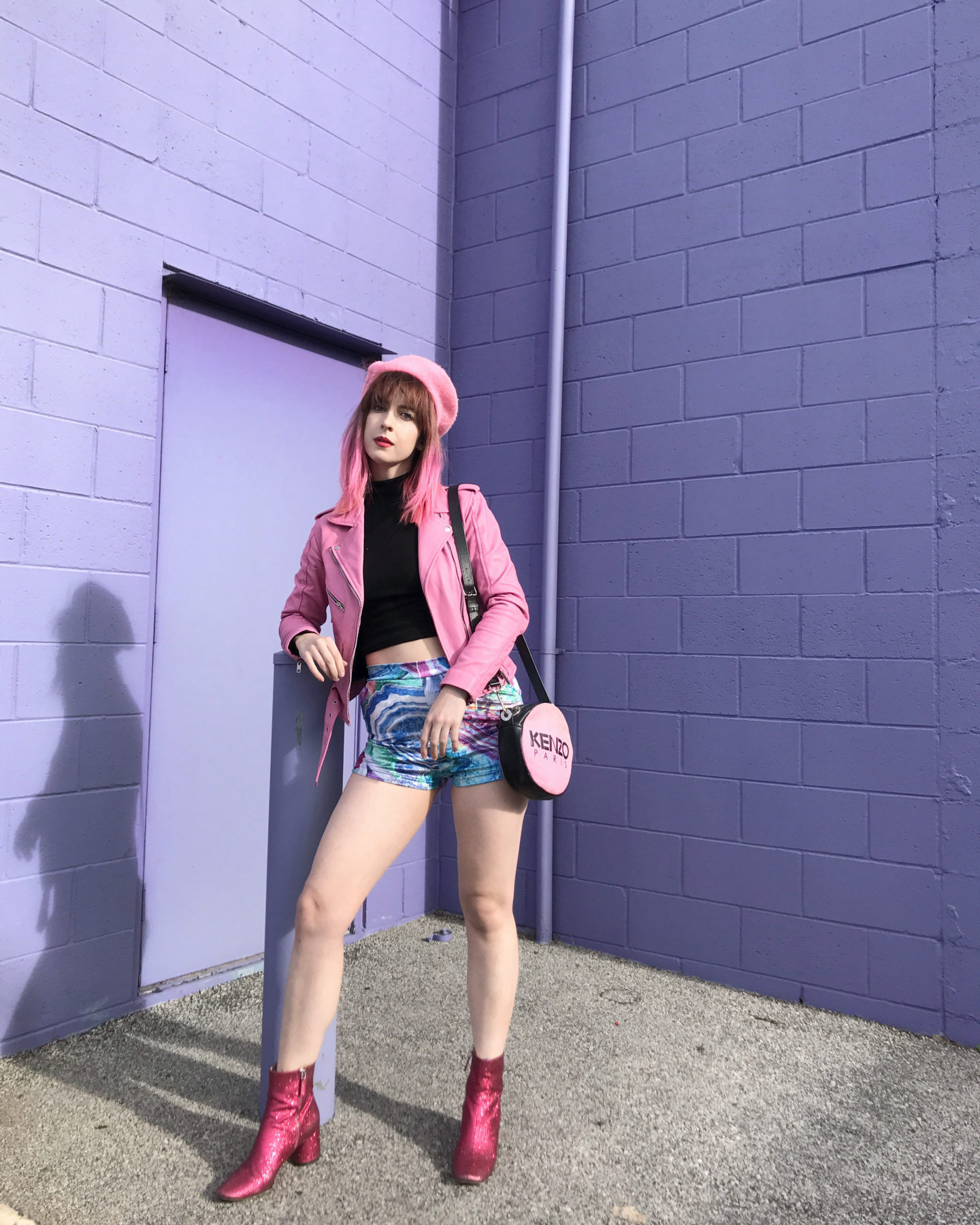 Length wise, I feel as though they are a little bit short for me for everyday wear (I'm 172cm tall for reference, if you're looking at the photos and wondering how long they'd be on you). But for a festival or similar occasion I think they'd be perfect! Of course, I know plenty of people who'd rock these as an everyday piece, I just have the tendency to feel bit self conscious in things that are so short and fitted.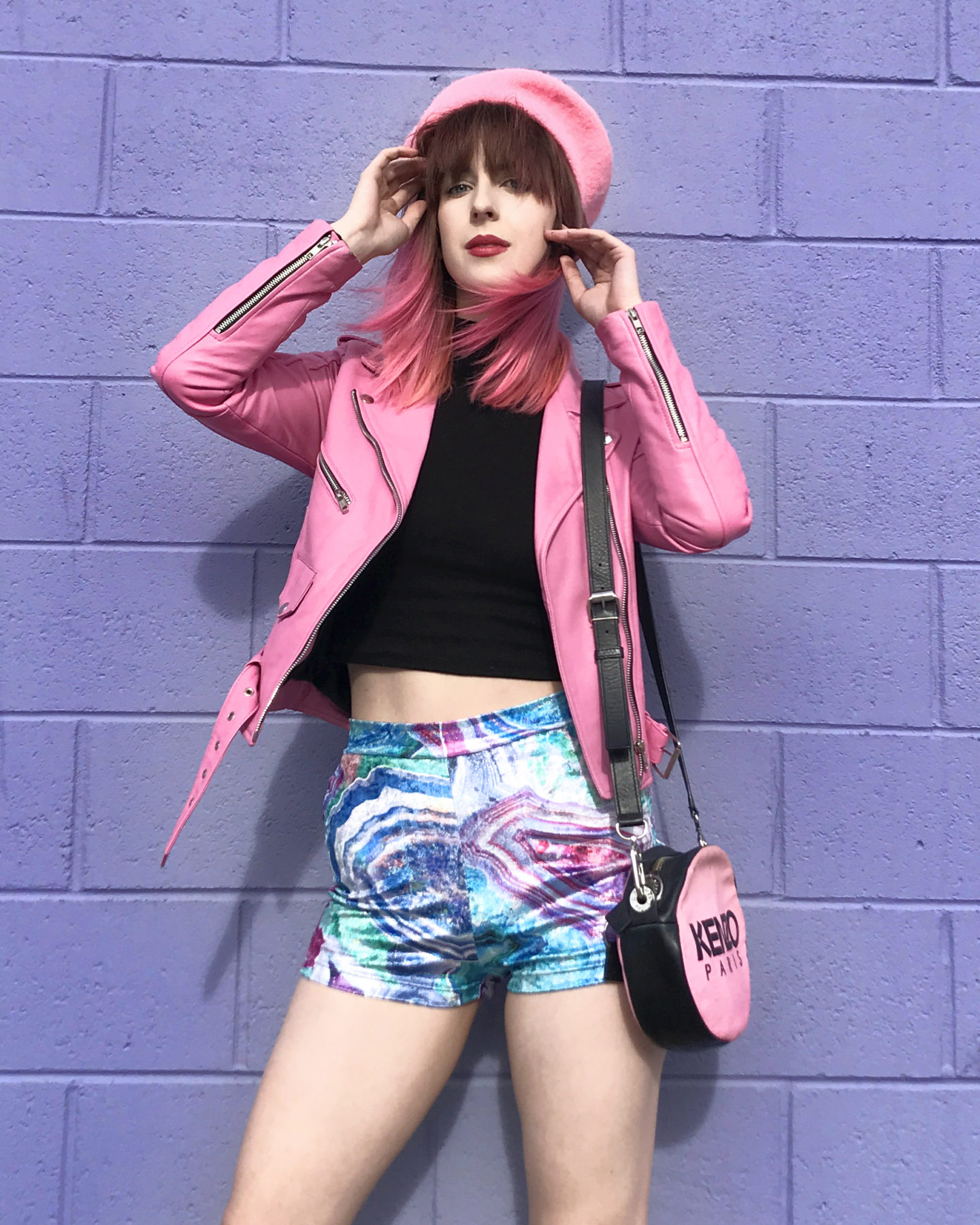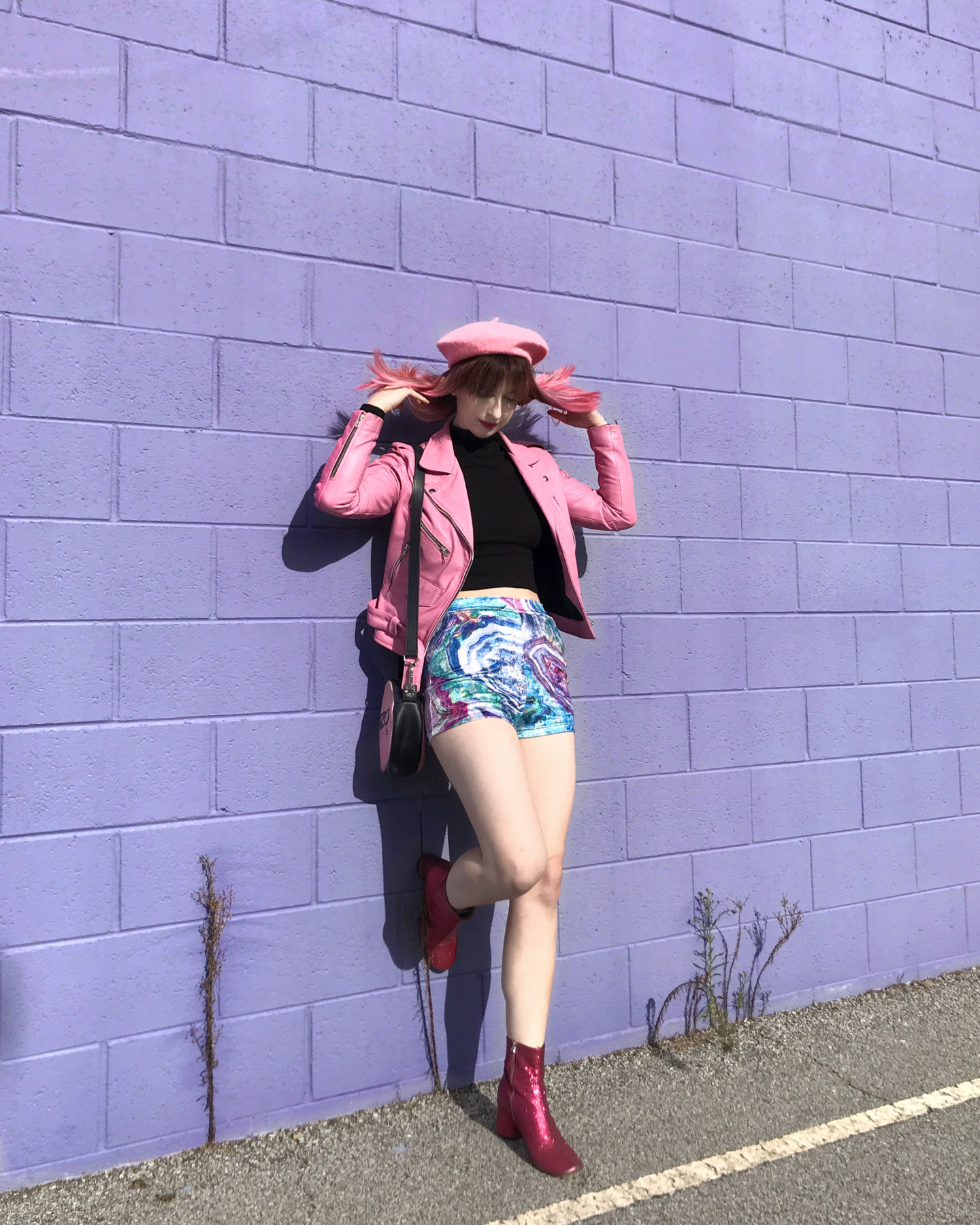 I paired these shorts with a bit more coverage up top – a great way to feel comfortable wearing something shorter and tighter than usual if you're like me! This jacket from The Ragged Priest is something I've had for a couple of years now, its one of my favourite outerwear pieces – I wish I had one in every colour!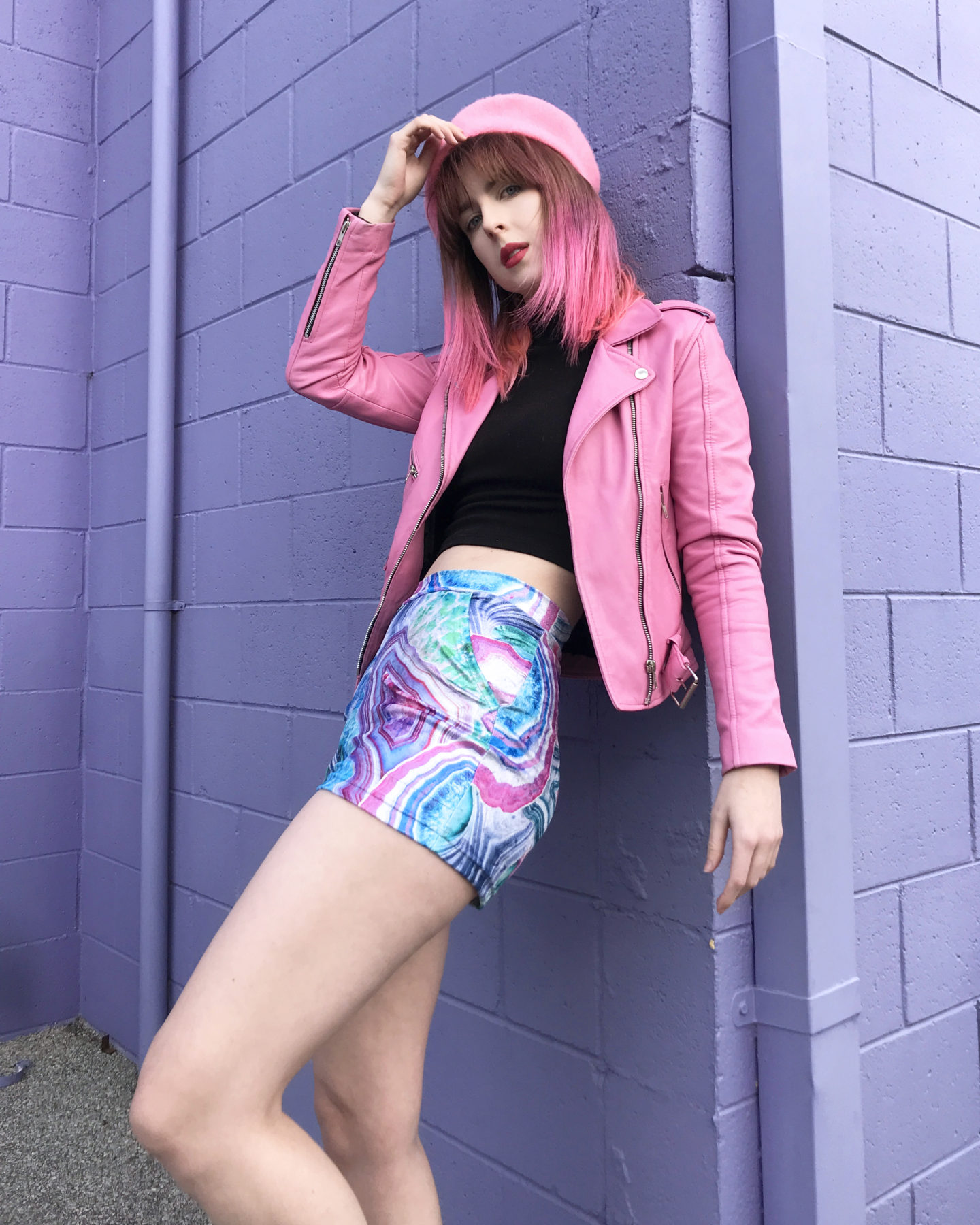 Shorts: BlackMilk Clothing
Top: General Pants
Shoes: Marc Jacobs from Shopbop (SOLD OUT)
Jacket: The Ragged Priest (SOLD OUT)
Bag: KENZO from Shopbop (SOLD OUT)