One of the most common things I hear through my social media and in everyday life is variations of the phrase "I wish I could dress colourfully too!". I always encourage people to dress how they want and have fun with fashion, although from these conversations I get the impression that when wanting to change your style it can be hard to know where to start. So I thought it might be useful to some of you if I put together a blog post with my top tips on how to start introducing colour into your own personal style!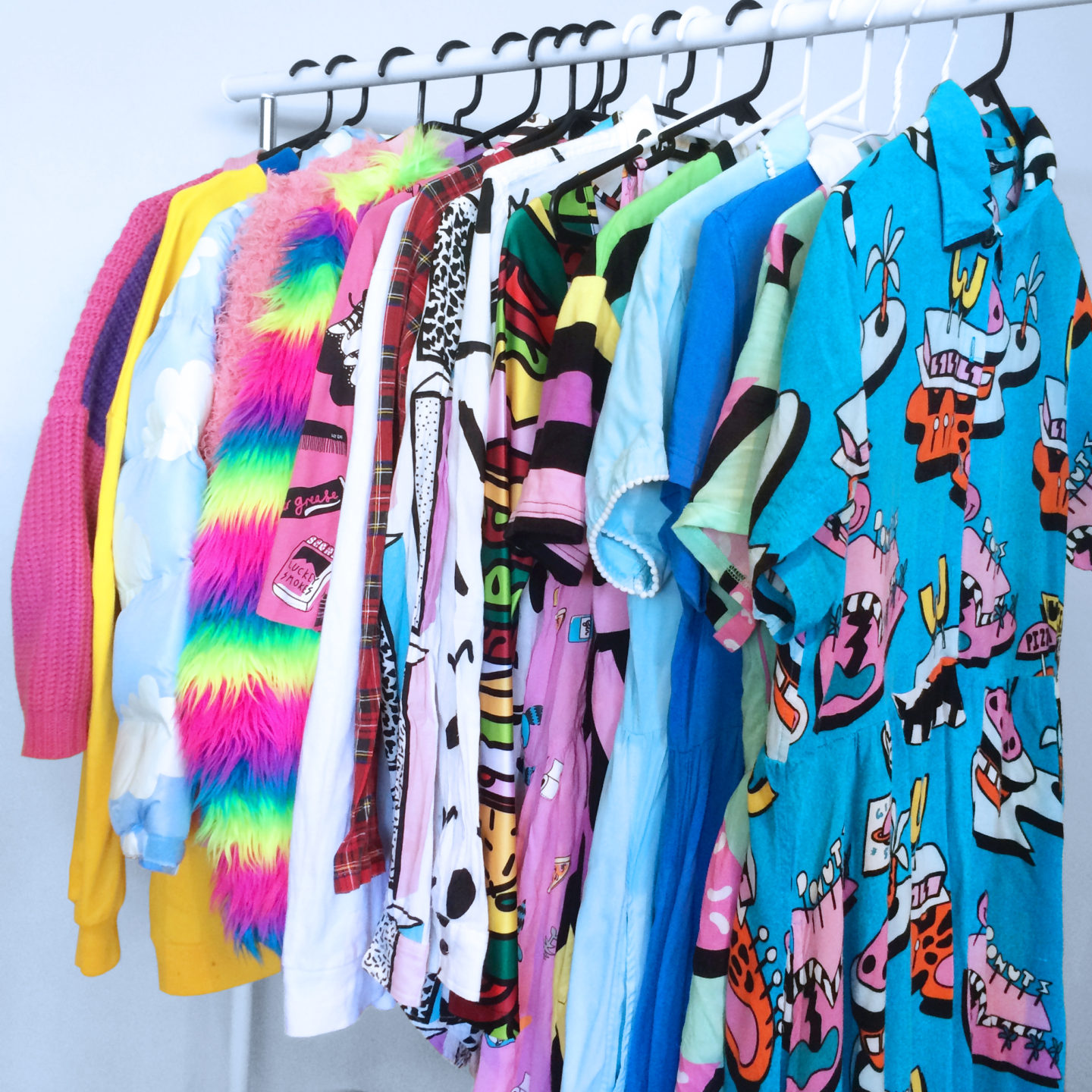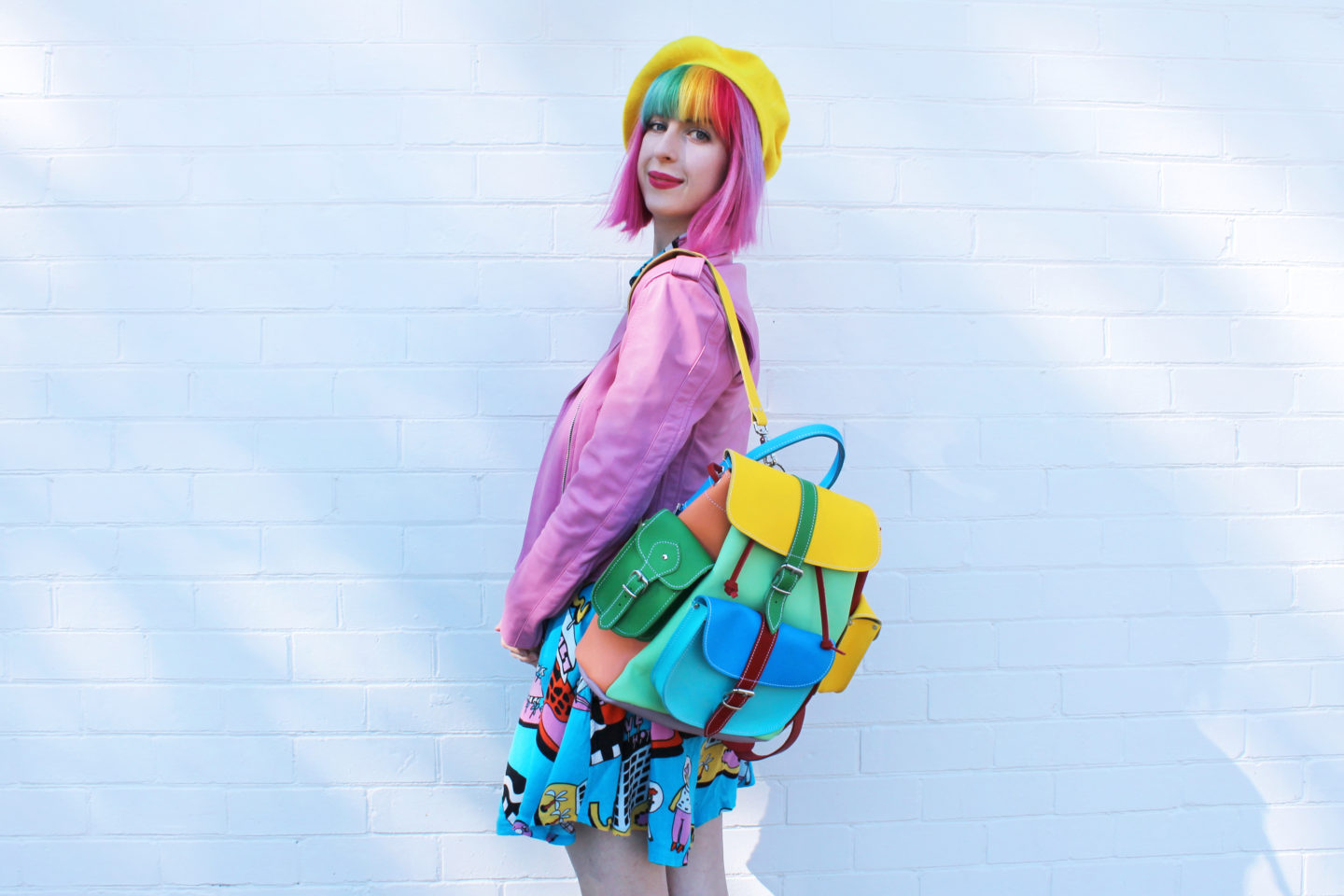 Switch up your style at a pace that feels natural to you
This is first on my list for a good reason – I think this is the most important thing to keep in mind when changing an element of your style! Changing and adding things in a way that feels comfortable and natural to you will help ensure that you don't feel awkward or uncomfortable in what you're wearing. Some people are comfortable moving at a quicker pace when changing their style, others like a more gradual transition – Do what feels best for you! 🙂

Add pops of colour through accessories
There are so many brands that make gorgeous, colourful accessories, and adding little bursts of colour to outfits you already own is a great way to start experimenting with colour! Shoes, bags, belts, hats, and jewellery are awesome for bringing an element of colour to an otherwise simple outfit, and can help you get used to dressing with colourful flair. To help you get started, here are a few of my fave places to shop colourful accessories!
~ tibbsandbones.com
~ dollskill.com
~ srush.com.au
~ doodadandfandango.com
~ maudestudio.com.au

Customize pieces you already own
Not only is this loads of fun, but it also helps cut down your contribution to garment waste by up-cycling old clothes/accessories that may otherwise end up being tossed to landfill – Its a win-win! You can add embellishments like sequins, beads, and pom poms to plain tops or dresses, and vibrant iron on patches are a great way to jazz up jeans and jackets! If you have a lot of white clothing you can experiment with colourful fabric dying. Cotton is the easiest fabric to dye, and you can buy tie dye kits made by Tulip that have a variety of shades to play with (these kits are great, I use Tulip dyes whenever I need to dye fabric!). The options of what you can DIY are endless… Why not plan a 'crafternoon' with your friends and get creative with colour together? 🙂




Shop secondhand to test out colourful new looks
As you would know if you follow me on social media, I am a huge advocate for sustainable fashion and shopping secondhand. As well as doing your bit to be more sustainable in your fashion shopping, you can also get some great bargains and quirky pieces by purchasing secondhand! With prices being lower you can buy colourful pieces that are quite different to what you would usually wear, without the risk of investing in something expensive early on in your style switch up that you aren't sure you will wear long term. So head on over to your local op shop/thrift store/goodwill and find yourself some funky pieces to take out for a spin! (Also, keep in mind the previous point about customizing while op shopping… Imagine what different things you see while secondhand shopping could become with a few added sequins or patches! 🙂 )

Play with colourful makeup
A bold lip, a sprinkling of glitter, or a hint of colour in your eyeshadow is a great way to brighten up your look… And lots of fun! If you're someone who only ever rocks a natural face, you'll be surprised at the difference a little bit of colour makes. Unsure of how to incorporate some colour into your makeup? Try experimenting with different things at home to see what looks you like best. Trial and error is an excellent way to discover what works for you, and if you need some inspiration to get started take a peek through Pinterest and Tumblr!
I hope that these little tips help in bringing some colour to your wardrobe and your life!
If you're trying to brighten up your style let me know in the comments below how you're going with it, or if you have any questions – I'd love to have a chat! 🙂